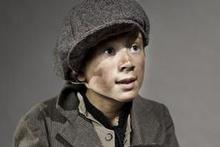 The Auckland Theatre Company have obviously lavished on the musical Oliver! the sort of time, money and effort that Oliver the hungry orphan can only dream of. The musicians; the revolving set; the abundance of actors continually changing their elaborate costumes - all add up to an impressive spectacle.
Virtually all the performers live up to these high production values, singing the deservedly famous melodies with warmth and verve. There's never a dull moment - the songs don't interfere with the action. Director Raymond Hawthorne, aided by choreographer Vicky Haughton, very effectively marshals all 35 players across the stage. The particularly able chorus depict busy Dickensian vitality in processions of fruit-sellers and funerals, while their pretty tableaux help slow the pace for quieter moments.
The opening Food Glorious Food falls a little flat - the boys' grim facial expressions don't match their imaginings of sausage banquets. But the two early duets are enjoyably much hammier than the boys' gruel, with the masterful Andrew Grainger and farcical Helen Medlyn revelling in the workhouse keepers' ghastly sauciness. The opening night Oliver, Conrad Edwards, is more angelic than cheekily expressive, but his voice soars.
Newcomer Greg Padoa's charismatic stage presence makes him immediately amiable as the Artful Dodger. In Mark Hadlow's unusual interpretation of Fagin - more loving than devious - the pickpocket leader becomes endearing (an impression amplified by the unexpected sight of Hadlow in stovepipe trousers). Hadlow deservedly has the audience eating out of his hand; his rapport with his gang and some clever pilfering choreography makes Pick a Pocket or Two a highlight.
Sophia Hawthorne as Nancy is especially strong in her angry, intense scenes with Michael Lawrence, whose Bill Sykes is puzzlingly more-mad-than-bad. Tracy Grant Lord's black set is a little scaffoldy, but the literally bright spots of Consider Yourself and Who Will Buy contrast nicely with the deliberate murkiness of the rest of her costume palette.
The set changes - a logistic feat - went off without any visible hitch.
All in all, Auckland Theatre Company has done itself proud and Oliver! is a delight.
By Janet McAllister

Email

Janet