Autumn is a good time to plant the humble pea, a welcome addition to any meal, says Justin Newcombe.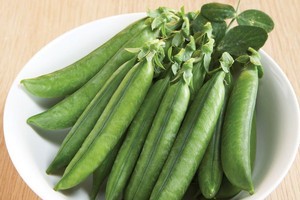 Peas are young, peas are pure, peas are lively, peas are delicate - that is what makes eating peas so enjoyable, because we are all of these things when we eat them.
Be it the lovely shelled orbs or the translucent emerald pods of those sweet sugar snaps, there is nothing more unadulterated in a salad than a pea. Unlike many vegetables, I can't imagine there would be a market for peas of any colour other than green. The understated charm of a pea is all about being fresh green. Green in the pea world will always be the new black, so to the person who came up with mushy peas to go with your chips, you deserve a smack over the nose with the rolled-up sports section. Bad doggie!
The best time to grow peas is during the change of seasons. Winter in most parts of this country is too cold, and in summer peas tend to bolt or deteriorate in the heat. Peas are best grown during spring and autumn in a good loam, with full sun and a lovely friable tilth.
Germination is easy, which is always a bonus. Plant your peas into pots or punnets to get them started and keep well watered in a warm place, or you can run the gauntlet with the slugs and snails and plant them directly into the ground.
Use a ring of bird netting around the outside of the young plants to keep the slugs and snails at bay. The long runners of the pea require a frame or tepee to climb, like a bean plant, and like the bean, peas also self-attach with a little training. Any tying you need to do is usually due to not having enough space on your frame, so think big.
Unlike the bean, peas are a pale green colour with a slight glaciation on the foliage (white powdery film) and are also a softer plant material, so be a bit careful when handling them. The flowers are really beautiful too, in fact sweet peas are grown especially for their flowers and scent. Peas come in a range of shapes and sizes so you can choose one that suits your space requirements. We are currently growing the stately Alderman variety which produces large pods with about eight peas per pod. In addition to this, we also have a smaller snap pea, the pods and tendrils both being perfect for salads.
For many of us it's getting a little late to propagate peas now as winter is a looming reality (fingers crossed for a long autumn), but don't be put off having a go. In fact, go hard because even if your young plants don't make it to the garden you'll find the young shoots excellent eating and a cultured addition to your dinner party salad. That's right, you can unshackle yourself from the preserving monster in the cooking dungeon and, instead, show your friends just who's who when it comes to semi-rural, self-imposed, self-sufficiency, by tossing them a few well-placed, semi-casual, self-produced pea sprouts. Easy peasy.