Algerian PM claims Canadian took leading role as terrorist leader warns of more attacks.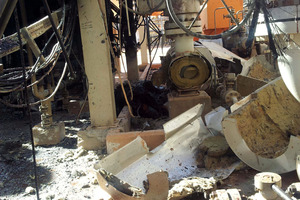 Canada is investigating a claim by the Algerian Prime Minister that one of its citizens co-ordinated the terrorist raid at the Saharan gas plant in which dozens of hostages were killed.
Westerners, including a man with blond hair and blue eyes, are believed to have been among the Islamist militants who launched last week's attack on the Tigantourine complex near Algeria's border with Libya.
A French jihadist, previously unknown to authorities, and two Canadians are suspected of being involved in the hostage-taking, and reports also claim that a man with a Western accent was among the extremists who lured terrified gas workers from hiding.
Prime Minister Abdelmalek Sellal said a man, judged "by his English accent" to have been Canadian, was among the 32 Islamists whose raid on the Algerian refinery prompted a global crisis.
One of the Canadians, identified only as "Shaddad", is alleged to have played a leading role in the attack which left 58 hostages - including 37 Westerners - dead after a four-day battle with Algerian forces.
Five other Western workers are still unaccounted for. "A Canadian was among the militants," Sellal said. "He was co-ordinating the attack."
The militants also included men from Tunisia, Egypt, Mauritania and Niger, he said. At least 29 Islamists from eight nations were killed in the operation to end the siege, with the other three taken alive.
The makeup of the attacking group - an al-Qaeda splinter brigade who call themselves "Those Who Signed in Blood" - will be carefully examined as security experts try to assess the scale of the threat across North and West Africa.
Concern at the international composition of the Algerian kidnap brigade will be compounded by reports from residents in Diabaly, Mali, that Islamists who overran the town last week included English-speakers and men who looked European.
Speaking to the Independent yesterday after French and Malian forces retook the town, student Amadu Dumbia said: "I definitely heard them and there's no chance that I made a mistake with another language. They spoke like they were from England, but had darker skins."
Mokhtar Belmokhtar, the leader of the group who is suspected of masterminding the gas plant raid from outside Algeria, warned yesterday that there would be more attacks on those participating in the military campaign in neighbouring Mali.
He also insisted the attacking brigade was not local, saying "only five Algerians" took part and "none of them were locals from the city".
- Independent
Bloody standoffs
Tehran, Iran 1980: A US special forces bid to rescue 53 American hostages from a bunker ended in failure and the deaths of eight soldiers. The mission had already been aborted due to bad weather and mechanical problems when a helicopter hit a transport plane.
Waco, US 1993: A 51-day siege at the Branch Davidian compound in Texas ended with a fire destroying buildings after federal agents began smashing their way in. Nearly 80 people died, including sect leader David Koresh.
Moscow, Russia 2002: Forces stormed a Moscow theatre where Chechen guerrillas were holding hundreds hostage. About 130 died.
Beslan, Russia 2004: A hostage standoff in the southern town ended in a bloodbath as Russian commandos stormed a school seized by Chechen militants. More than 330 people were killed, about half of them children.
- AP