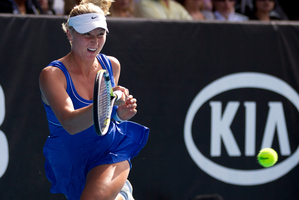 The "Aussie, Aussie, Aussie" chants felt weird for New Zealand defector Sacha Jones but the chance to experience her first Grand Slam main draw match reinforced the worth of her switch of countries.
The 22-year-old Auckland-born adopted Australian fell 6-3, 6-2 to Czech Kristyna Pliskova in just 73 minutes on an outside court on day one of the Australian Open at Melbourne Park yesterday.
The world No183's performance was hampered by a limited preparation, after she spent the past three months battling a serious wrist tendon injury.
"There was a point where I wasn't even sure when I'd be able to play tennis again or if I'd be able to play, so I'm just thankful that I'm actually able to play tennis again," Jones said.
Her Open entry came through a wildcard, which would not have been granted had she not become an Australian a year ago.
Jones, whose father is Australian-born, said that while the move came with several other career benefits including access to Tennis Australia coaching staff, it was not purely for professional reasons.
But she betrayed her mixed loyalties when asked if she planned to return in the future to the Auckland Classic by repeatedly referring to that city as "home".
"I went in to the Classic a couple of times whilst I was home," Jones said.
"Everyone's really nice and friendly to me still so it's lucky.
"I feel sort of torn in the middle sometimes."
She said friends and family in New Zealand understood her move.
"They all understand that, if I want to play tennis to the best of my ability, I needed to put myself first in some ways."
- AAP