Some things never change with Sports Cafe presenters still happy to make fun of their esteemed leader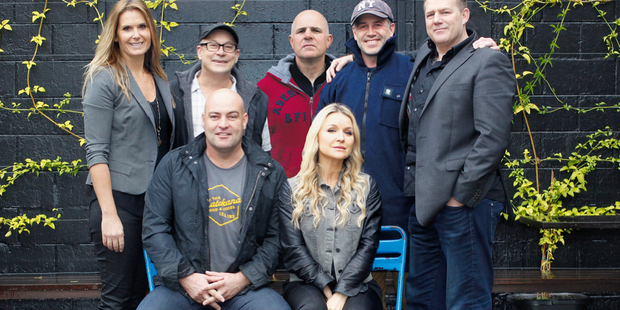 Almost a decade after finishing their original run, the Sports Cafe crew are split on the possibility of a comeback.
"The answer's no," says Lana Coc-Kroft. "I'll answer on behalf of everyone."
Graeme Hill, whose acerbic commentary peppered the show's highlights packages, begs to differ.
"I'm thoroughly desperate," he says. "I'll do anything."
Marc Ellis, meanwhile, has one condition for a potential return: "I refuse to work with Ric [Salizzo] again."
Ellis shares that opinion with Leigh Hart, better known on the show as That Guy.
"I'd say most of us have got a better chance of working with Paul McCartney and Ringo Starr before we work with Ric again."
Without any prodding, a casual catch-up at a Newmarket cafe has turned into an impromptu episode of Sports Cafe, featuring one of the cast's favourite gags - piling on their leader.
"When you look at comedy, you need a combination of roles - people who could play off each other," Salizzo says. "I was there to cop it. That was my role."
And it's a role that continues to this day, six years since the final of 450-odd episodes was broadcast.
On the topic of another revival, Salizzo says the spirit of the show still exists, with the friendships and relationships remaining, but there are no longer cameras to capture the madness. Ellis, unsurprisingly, disagrees.
"It's ironic because Ric's the guy who always talks about how they were wonderful days. It's almost to the extent where we've had enough of him and, as a result, cut ties. He's got to look forward. Sure, they were halcyon days by his standards. But we've just kept on charging."
But there is one lingering matter that leaves Hart - tongue firmly planted in cheek - with a bitter taste in his mouth when fans quiz him about his time on the show.
"You hear stuff all the time from the public, which is great, because you've great memories of the show. But then you think of all the financial allegations that went on with Ric. A lot of the time we didn't know where the money was going."
Says Ellis: "He's made it. He's in Mission Bay and he's got a four-wheel-drive."
Salizzo is pouring his "fortune" into digitising VHS tapes of old shows, constantly being struck by the shambolic state of production.
"I'm looking back at some of them and, God, we made a lot of crap television. How the hell did that get on TV?"
News of Salizzo's hobby is predictably met with pity from his former colleagues. "It's sad when it comes to that, really, isn't it?" Hill says. "I didn't know it was that bad."
Hart agrees. "It's a bit like watching footage of a colostomy or something. It's powerful footage but you're just not sure you want to be watching it."