Actress Marta Dusseldorp's theatre background made her feel right at home in Australia's answer to Downton Abbey, writes Lydia Jenkin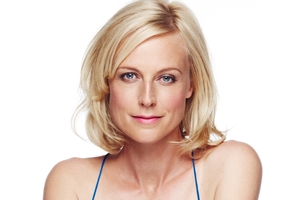 When seasoned Australian actress Marta Dusseldorp read the part of Sarah Adams in grand new Australian drama A Place To Call Home, she knew it was role she desperately wanted.
"I was reading a couple of my audition scenes and I said to my husband [Ben Winspear], who's also an actor, 'You should read this, it's really good.' We've been watching a lot of HBO stuff and we both come from the theatre, so we're big on text and words, and I was just immediately struck by how bold, and true, and strong, and complicated and hidden the world was."
The more she found out about Sarah and her sto ry, the more she wanted to know.
"Being a 40-year-old woman, you want this sort of role. You don't want to be someone's mother or someone's victim or someone's plaything. You want to have depth and history and scar tissue, and this woman had all of that. But also a joy for life - she's not depressing."
Sarah is a graceful, steely and enigmatic nurse who spent World War II serving in Europe and is now returning home to Sydney to look after her estranged mother.
She meets the wealthy Bligh family on the passage home and when things don't go well with her mother, she takes up an opportunity offered to her by the eligible bachelor George Bligh (played by Brett Climo), to come to the fictional farming town of Inverness and interview for a position at the local hospital, headed by Doctor Jack Duncan (played by Kiwi actor Craig Hall).
The series has been described as Downton Abbey meets popular 1980s mini-series The Thorn Birds and it certainly revels in the sumptuous style and romance of the 1950s that Douglas Sirk captured so well, while also capturing the spirit of rural Australia in a period of change. Sarah is often an unwitting catalyst for that change in Inverness, challenging the ways of the community and in particular ruffling the feathers of Elizabeth Bligh, George's mother, the family matriarch.
"Sarah comes with very different morals, behaviours, expectations, and I think that's a really important turning point for the Bligh family," Dusseldorp explains.
"That's the thing that keeps George attracted to her, and Elizabeth repelled, because she is change. So in her wake, without her knowing it - which is another thing I love, she doesn't do it with any purpose, it's just who she is - it creates change. Like a whirlpool or a tornado!" she laughs. "But it's on a minute scale. That's what is so great about [series creator] Bevan Lee, is that he's able to put a tornado into a family without it being all daggers and curtains."
Indeed, Sarah would rather divert attention than cause a stir, as she has secrets of her own to guard, but her nature to put others before herself often lands her in unexpected situations.
"Essentially, she wants to walk a simple path and she just keeps getting tripped up along the way. If she had it her way it would be quite simple, you know, she would come home and her mother would accept her, and she would nurture her mother in her later life and she would be a nurse in Sydney. But she's not allowed to do that. So there's these wonderful obstacles as an actor that are great to play against.
"But she's not a reactive person. That's what I like about her - she doesn't raise her voice, she's not a shouter or demander. Modern-day women are all 'it's my right', she's much more 'this is right', so it's more about other people than her."
Dusseldorp spent a good deal of time doing historical research for the role - reading about wartime experiences, watching documentaries, looking at archival images and soaking it all in. She was also inspired by both of her grandmothers "for poise and timing, and Sarah's depth of voice", but mostly she let the script guide her.
"It was all about, 'what does she do?' I find that people are defined by their actions, even today. So it was about letting her speak for herself by what you see her do."
Dusseldorp's many years of experience in theatre (including impressive roles with Sydney and Melbourne Theatre Companies) were of great help when tackling the sweeping and complex themes, and a tone that goes beyond your average Australian TV show.
"The commitment and depth of feeling and thoughts have to be pretty enormous, because it's a melodrama - shamelessly a melodrama. That's been seen as a dirty word in the past, but actually it's more where television is heading now. Of course there is always a place for the naturalism, which is great to watch, too, but more and more television is pushing into that melodramatic world - like Breaking Bad, Boardwalk Empire and Game Of Thrones.
"They are all epic stories that have huge characters and people are learning to love that, because it's bigger then your reality - and that's what theatre has always had.
"It makes it a bit harder, in a way, because it's a finer line to tread than naturalism, where you can just be yourself and sink into your hips, and shrug and mumble. There's no shrug and mumble going on here. But it was a pleasure for me to play."
Who: Marta Dusseldorp
What: New Australian drama A Place To Call Home
Where and when: Begins on TV One, tomorrow night at 9pm
Follow @nzherald_ent on Twitter for all the latest entertainment news.
- TimeOut