Five shows that will keep couch potatoes glued to their seats over the coming week.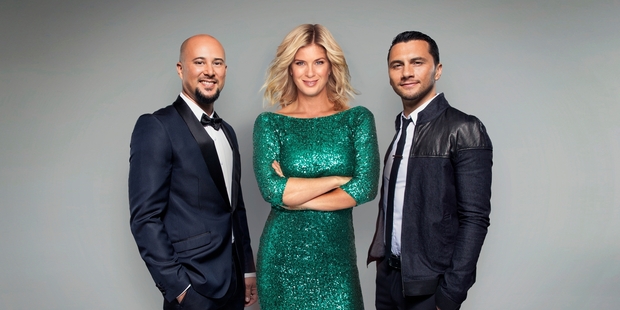 Pick of the week: New Zealand's Got Talent
The most popular show on telly is back. And if the first episode of this year's edition of New Zealand's Got Talent is anything to go by, it's easy to see why it's so big. It's got touching, tear-jerking performances, some truly talented wannabe stars doing everything from singing and dancing to magic tricks and hula-hooping, and some highly entertaining but hapless contestants.
The latter category provokes responses from the judges - supermodel Rachel Hunter, Opshop frontman Jason Kerrison and newbie Cris Judd - such as "It was awful" and "I love that song but you'd be best not to sing it".
Not to give too much away about the opening episode, the must-sees include an unassuming chap singing Iron Maiden's Run to the Hills, a sweet young 14-year-old lad covering One Direction's Little Things ("Sometimes I sing it to the girls at school. But don't tell my parents," he says shyly before taking to the stage), and the hip-hop crew doing impossible things with their robotic limbs.
Last year's show, won by then 15-year-old singer-songwriter Clara van Wel, was the most watched programme on local TV in a decade, with about one million people sitting down to view the final.
This year the format is the same and it's hosted once again by Tamati Coffey.
Judd, a renowned dancer, choreographer and the former hubby of JLo, adds a more authoritative and businesslike American approach to the panel.
"We've got Cris this year - he worked with Michael Jackson for three years," enthuses fellow judge Jason Kerrison in an interview before the heats start in Dunedin.
But Judd still knows how to have a laugh, and, with Hunter and Kerrison, a good cry too, with the three moved to tears by one special performer during the first show.
Meanwhile, although van Wel has not fully capitalised on the exposure the competition gave her, since she's been juggling school and her musical career this year, the Blenheim songwriter is recording her debut album. Other acts to come through last year and move on to bigger things include contemporary kapa haka group JGeeks, who have become YouTube sensations and are touring the world, and second-placed Jessie Hillel has released a pop opera album and appeared in a Bollywood film.
When: Sunday, 7.30pm
Where: TV One
What: A new lot of wannabes
Music pick: Prime Rocks: Quadrophenia
In 1973, Pete Townshend created the Who's second rock opera Quadrophenia at a time when the band were struggling with everything from money problems to a crazed drummer on the edge of self-destruction.
Set in the 60s mods and rockers era, Quadrophenia followed teenager Jimmy as he struggled to cope with a personality disorder. The creation of the album almost broke Townshend and within a year the band would disown it and ignore the album for the next three decades.
In this documentary - subtitled Can you see the real me? - the guitarist revisits the making of the record, and allows an in-depth look into his personal archive featuring unseen interviews with Townshend and bandmates Roger Daltrey, Keith Moon and John Entwistle.
When: Thursday, 9.40pm
Where: Prime
What: Rock opera history
Local pick: Street Hospital
We've got reality shows that follow the police, surf lifesavers, customs officers, drug squads, and rescue choppers. So it makes some sense that TV2's new show is one that follows another group to which we are indebted for public service, and generally putting up with people at their worst: the team of Wellington Free Ambulance paramedics.
They spend their nights on the busiest party streets of our capital (anyone who's ever walked down Courtenay Place on a Saturday will have some idea of what they face), and these episodes document their often comical, frequently frustrating and sometimes life-saving work. Through fixed-rig ambulance cameras and street crews, they capture the action of events such as the Rugby Sevens street carnival and street brawls. They even help a woman giving birth in a nightclub.
When: Thursday, 8.00pm
Where: TV2
What: Paramedic front lines
Family pick: Packed to the Rafters
After five years of family drama and comedy, Australia's favourite family have decided to go out on a high - the Rafters are moving on. But the next 12 episodes will still be very eventful as Nathan, Rachel, and Ben reconnect with the family and make life-changing decisions of their own.
The biggest challenge facing Julie and Dave is Ted's slow decline into dementia and how best to handle his increasing mood swings and memory loss.
Nathan moves back home, hoping to get a job and find a house before bringing his wife and baby over to Australia for good. But leaving Saskia and Edward behind in Britain proves difficult. Then there's new sparkie Buzz to train, Coby stuck in jail waiting for his hearing, and Emma, Carbo, and Retta's new business has problems.
When: Thursday, 8.30pm
Where: TV One
What: Saying goodbye to the Rafters
Mockbuster pick: Sharknado
A rogue tornado devastates Los Angeles, causing man-eating sharks to be scooped up in water spouts, inundating the city with shark-infested water.
Ian Ziering (Beverly Hills 90210) stars as Fin, a bar owner/action man hero in this intentionally B-grade disaster flick, which has generated a cult following for its hilarious script and ridiculous special effects.
When the tornado arrives, Fin teams up with a couple of mates from the bar to rescue his former wife (Tara Reid) and daughter, before helping a school bus full of trapped kids, and then making a plan to try to save the city by dropping bombs into the tornado.
In between there's plenty of shark slaughtering, rivers of blood, and bad puns. Don't miss the scene in which Fin cuts his way out of a shark's belly with a chainsaw.
When: Tuesday, 8.30pm
Where: Prime
What: Man-eating sharks rain over L.A.
Follow @nzherald_ent on Twitter for all the latest entertainment news.
- TimeOut