The iconic dpeartment store had a shakey start, as Nick Grant finds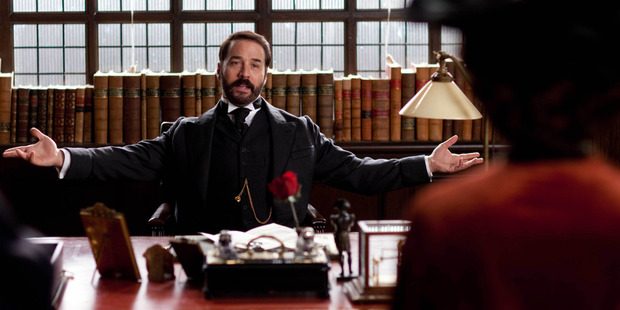 Aside from the Edwardian era costumes, sets and so on - all as utterly impeccable as you'd expect from a UK-made TV production - the main draw for Mr Selfridge is Jeremy Piven in the title role.
As Ari Gold, the unctuous agent in Entourage, Piven was the only real reason to watch that gossamer-thin Hollywood insider bromance. In stark contrast, I strongly suspect his weird atonal turn in Mr Selfridge will spur many to eschew this new period drama.
In 1909, the based-on-fact Harry Selfridge imported modern merchandising practices to England, where putting goods on display in a shop was considered tantamount to "tempting people to dishonesty".
As played by Piven, Selfridge is a tiresomely typical American: loud, brash and always sell, sell, selling the idea of shopping as a legitimate leisure activity. Actually, he never seems not to be selling something, including the idea of himself as a devoted family man.
Judging from the way Piven's permanent grin never touches his eyes, the character is clearly conceived as someone who is fundamentally insincere, or at least convinced the key to success is to always present an exuberant front (the only time he allows a glimmer of self-doubt to show is in a midnight heart-to-heart with his ma.)
Now, that can make for a compelling character - Mad Men's Don Draper, for example, is an excellent, enticing portrait of a slick but still largely unsympathetic super-salesman.
The problem is that Piven comes off as so unnatural it's impossible to believe he convinces anyone of anything. At least he's consistently awful, I guess: his stilted and declamatory delivery, odd inflection and robotic line-readings (at one point he actually says "ha ha ha" to convey laughter) is perfectly matched by his herky-jerky movements, with much emphatic thrusting of hands and waving about of arms.
Perhaps Piven based his gestures on the poses people struck in particularly stagey period photographs. Or maybe it's a form of semaphore and he's desperately signalling that he's out of his depth and drowning in the decorous surroundings.
The often absurdly on-the-nose dialogue certainly doesn't help Piven's performance ("Can't they give a fellow a chance?" he loudly despairs at one point); nor does the fact the rest of the mainly British cast (which includes Coro's Katherine Kelly in posh minx mode) are able to deliver such lines with an aplomb that makes them seem plausible.
Piven aside, the rest of the show is visually spot-on. Dramatically, however, things are not so well appointed.
The fact Selfridge's is sufficiently famous that almost everyone has heard of it surely serves as a spoiler in terms of the resolution of the series' central question (will the store be a success or not?).
Given the destination is in no doubt, then, the show's principal pleasure must be derived from the journey there. But despite the rise of retail therapy being a meaty subject, any investigation of that theme has apparently been abandoned by the end of the opening episode in favour of setting up sudsy subplots.
Quite probably because of that, Mr Selfridge is a hit in the UK. A second season is already in production, so clearly there's an audience for it, maybe including you. Just don't be surprised if you experience buyer's remorse.


• Mr Selfridge debuts tonight, 8.30pm, on TV One.