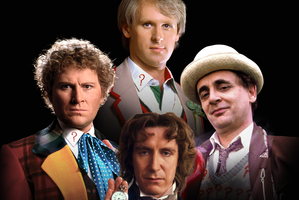 Four Doctor Whos will appear in New Zealand next month.
Former Time Lords Peter Davison (1981-84), Colin Baker (1984-86), Sylvester McCoy (1987-89) and Paul McGann (1996) will entertain up to 500 fans in Auckland next month to celebrate 50 years of the legendary TV show.
McCoy is no stranger to these shores after starring as wizard Ragast in The Hobbit.
"I only wish I had a Tardis to transport me to New Zealand as the jet lag can be pretty brutal," the 69-year-old Scottish actor joked.
McCoy was looking forward to seeing people's reactions when the Doctors are travelling together.
"When folk turn around on the plane and see us lot sitting behind them they will think they are hallucinating," he said.
"It could have been worse as there was originally going to be five of us. Tom Baker was supposed to be coming too, but he is getting on a bit now and didn't fancy the journey."
The all-day Lords of Time show is at the Dorothy Winstone Centre on April 13. The Doctors will sign autographs and appear on stage individually to take questions from fans. There will also be discussion panels and special screenings.
Special guest appearances include Nicholas Briggs, who voiced the Doctor's arch enemies the Daleks and the Cybermen.
Film-maker Sir Peter Jackson is a big fan, and recently offered to direct an episode of Doctor Who - in exchange for a gold-coloured Dalek.
"Peter would do a brilliant job of directing an episode or two."
Christchurch-based organiser William Geradts persuaded all four Time Lords to simultaneously appear in New Zealand. "It is a once-in-a-lifetime opportunity for fans to meet so many of their favourite characters in the flesh."
Standard tickets for Lords of Time cost $49 for kids, $99 for adults. A VIP pass is $399. They are available through iTicket.