Bear Grylls has achieved superhuman feats but is still mainly known for drinking his own urine on Man vs Wild. Hayden Donnell talks to the TV adventurer ahead of his live show in Auckland about survival, dangerous New Zealand terrain and inspiring people to defy the "dream stealers".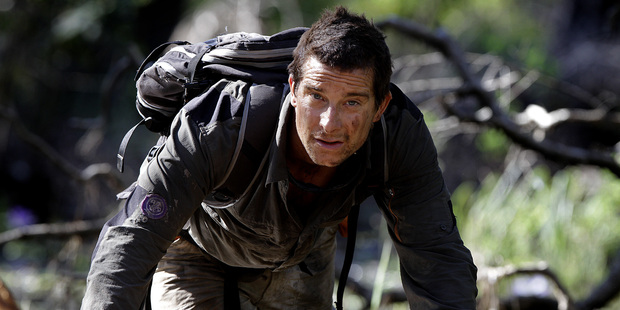 Bear Grylls broke his back in a free-fall parachuting accident in Zambia and celebrated finishing an 18 month stint in rehabilitation by spending 90 days clambouring up Mt Everest.
Still, everyone who talks to the Man vs Wild star only wants to know one thing: "What does it taste like to drink your own pee?"
Grylls refuses to be offended.
"My ego is not that big. I'm very grateful for people who watch the show. It's about encouraging people and helping them to survive and overcome their fears."
Besides, eating and drinking disgusting things on the internationally syndicated show has taken Grylls around the world, including on tour to New Zealand.
He is playing shows at TSB Bank Arena in Wellington tomorrow and at Vector Arena in Auckland on December 2
It is his first visit here since February 2011, when he was filming for Man vs Wild in Mt Aspiring National Park as the Christchurch earthquake struck.
Grylls says the ultimate goal of his live performance is to inspire audiences to start pursuing their dreams.
His show will feature unarmed combat, swinging from rooftops and "a bit of live bug eating".
"I want it to be life affirming and inspiring," he says. "You've only got one life. Grab it with both hands and don't listen to the dream stealers who want to pull you down."
Grylls has never listened to naysayers, opting instead to seize life like the tiger shark he once leapt onto from an inflatable boat.
He has survived everything from the Sahara Desert to Antarctica, led an Arctic expedition in an open top boat and recently became the youngest ever Chief Scout.
After that, you would think New Zealand would be bit humdrum for him with its fat flightless birds and moderate climate.
But he says this country has one of the toughest environments to survive and its survival food - in his case a live weta - is the most disgusting.
"You have some of the hardest terrain on the planet. I think New Zealanders don't necessarily know just how dangerous and unpredictable and unforgiving some of the terrain can be. It's not only quakes you should worry about, you can go from normal terrain and end up falling and burning alive in volcanic spring water."
Grylls is on tour after a contract dispute led to him being cut from Man vs Wild in March.
Producers at Discovery had a vision of how they wanted the show to evolve which he did not agree with, he says.
He did not stay unemployed for long, picking up a star role in a new extreme adventure show with US network NBC.
Though he is now approaching 40, he has no plans to give up torturing himself for other people's entertainment.
"It gets harder as you get older. You feel the consequences of your actions a bit more. But I'm going to keep going as long as I can. Let's speak again when I'm sixty."
By the way, he says pee tastes bad, but not as bad as the fluid that comes from fresh elephant dung.
Live preview:
What: Bear Grylls live on stage with Rhys Darby.
Where: TSB Bank Arena, Wellington and Vector Arena, Auckland.
When: November 30 and December 2.
Also: There's a live chat with the MC of Grylls' show, Rhys Darby on nzherald.co.nz at 11am today.