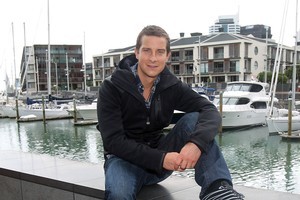 TV celebrity adventurer Bear Grylls got much more than he bargained for when he came to New Zealand to make new episodes of his Man Vs Wild TV show.
Grylls was crossing a river by a wire during filming in Mt Aspiring National Park, 250km south of Christchurch, when "everything started wobbling" and his crew saw the ground was shaking.
But they did not realise that what the extent of what happened - the devastating 6.3 magnitude earthquake - until they finished filming the next day.
Speaking to reporters in Auckland today, Grylls said he was impressed with the resilience shown by New Zealanders in the wake of the quake.
"In some ways it's a privilege to be in New Zealand at the moment, to stand beside you in what you're going through as a nation.
"New Zealanders are renowned around the world for being tough and resilient, that's what makes you so darn good at rugby, but it's that same spirit that will get you through this.
My heart goes out to you," he said.
"If I have learnt anything over the years while filming Man Vs Wild is that you can't take the wild for granted.
"It's that unpredictability that's also the magic. But sometimes it turns nasty and terrible things happen. Our job is to look after each other and try to get through things together.
"If any nation on earth can cope with this, you guys sure have the spirit."
Grylls has spent the past four weeks in New Zealand filming two episodes for the latest season of the show.
The film crew has been shooting footage in the Southern Alps, Mt Aspiring National Park, as well as Tongariro National Park and areas around Whakatane.
"I had no idea what a huge wilderness it was down there in the South Island. We travel to a lot of remote jungles but that really shocked me," he said.
"Those mountain ranges in the South Island are vast. There are a lot of communities around these wilderness areas, but when you start branching out on foot you realise it's a huge area," he said.
Grylls said it would be crazy to finish a whole Man Vs Wild series and not visit New Zealand, and he had been pushing to come here for some time.
He said he had met some unappetising creatures during his adventures, but one of the worst was the tree weta in New Zealand.
"I thought it should be fine as I've eaten a lot of grubs like this. But it completely took me left field. Really I've never tasted something that tastes like you would imagine poo would taste," he said.
Grylls also sampled a possum, which he said "tasted a bit like rat".
One of his biggest challenges whilst filming in New Zealand was jumping off a 37 metre high waterfall, with only flax leaves and vines to help lower him down.
Grylls is speaking at Auckland's SkyCity Convention Centre tonight about being the youngest British climber to climb Everest, at 23.
He will also speak at Wellington's Michael Fowler Centre tomorrow night.
All proceeds will go to Wellington Children's Hospital, victims of November's Pike River mining disaster and the Christchurch Earthquake Appeal.
- NZPA