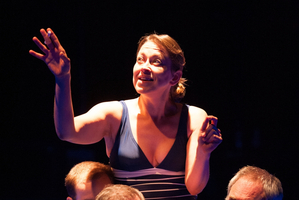 You would think that after playing intelligence analyst Ruth Evershed in BBC spy series Spooks for seven years, Nicola Walker would be able to get to grips with a few simple sums. However, in the English National Theatre's adaptation of Mark Haddon's best-seller, The Curious Incident of the Dog in the Night-time, she plays the mother of teenage savant Christopher Boone who, despite his constant behavioural problems, boasts a prodigious gift for numbers.
"I've got a bit better since I started doing the show but I'm absolutely appalling at maths," she laughs. "On the first day of rehearsals, we all had to say how good we were at it and impressively the room was split 50/ 50 between those of us who were dreadful and those that said that they adored maths because it's like the purest language."
The latest in a long line of much-loved books that have been turned by the National into successful stage productions, Curious Incident screens in Auckland cinemas as part of this year's NT Live season.
Scripted by seasoned playwright Simon Stephens and directed by War Horse's Marianne Elliott, it begins with Christopher resolving to find out who killed his neighbour's dog, Wellington, before embarking upon a hazardous trip to London to track down his errant mother. It's a thrilling journey brought brilliantly to life through the cutting edge use of lights and film.
"It's got a cinematic quality to it but it's not trying to be like a movie and that's one of the reasons why it really works," says Walker. "It feels like it's joyfully embracing the theatrical parts of the book.
Christopher's version of how a play works is laid out for you with props being pulled out of the floor. The video-scape is quite cinematic but the way we interact with it is really theatrical so it's like a really lovely marriage of the two mediums. We're doing things in the play you couldn't do in a film because people would say it was too avant-garde. I think it feels honest and true; like we're trying to tell the story."
Boasting a cast that includes Una Stubbs as nosy neighbour Mrs Alexander and Niamh Cusack as teacher and narrator Siobhan, Walker is full of praise for Luke Treadaway's excellently measured performance as the intensely troubled but hilariously affectionate Christopher.
"He's a phenomenal actor," she says. "He has a very lonely time on stage and is very much on his own. We're a really tight group off-stage but once the play starts running, Christopher doesn't touch or make eye contact with anybody and if he does it's a painful and frightening experience. I can't imagine what that is like, because one of the ways in which you survive in a show like this is through looking at the other actors but Luke is completely alone.
"I'm a big fan and I've told him I'm always going to be in the front row of whatever he does next, like some strange middle-aged, stalking lady fan."
Presumed dead by Christopher, Walker's character Judy is a distant presence for most of the first half as she waits a considerable time before making a dramatic entrance.
"It was Marianne's decision not to bring me on earlier, as I could have come on as part of the ensemble group, which helps manifest Christopher's world from the very beginning," says Walker.
"But Marianne decided that until Christopher finds her letters, she doesn't exist in his head. It makes sense to me but it was difficult at first, so I've learnt not to get ready too early. If I get ready when everybody else does, I'll end up sitting in my dressing room for half an hour, staring out the window and just getting nervous. So now I get ready when I hear that the show's up."
Having abandoned Christopher and run off to London, Judy's apparently selfish actions don't immediately endear her to the audience. "I didn't have a child when I first read the book a few years ago but I have one now so I find it easier to sympathise with her," says Walker. "But that's just typical of how until you've actually experienced something like that, you're probably going to be more judgmental about it.
"We talked a lot about it in rehearsal and as a mother I felt very angry towards her for ages. I thought it was appalling that she should have left her son but I gradually came to understand their relationship and the incredibly difficult time their family has been through. She's so full of self-pity, guilt and love that she can't express that towards her son."
Ultimately, Walker hopes that audiences will make up their own minds. "I know actors always say this but it isn't my job to defend her or sentence her guilty," she says.
"I'm just meant to try and be her. I do understand her and why she did it now but that's as far as I need to go to be her on stage."
Soon to be seen in BBC drama Last Tango in Halifax, Walker was sad to see Spooks come to an end after almost a decade.
"It was a big part of my life," she says.
"I wanted Ruth and Harry to have a happy ending and to somehow sail off into the sunset together. But of course it's Spooks, so that wasn't going to happen, but I think they were right to do that."
Who: Nicola Walker in the National Theatre Live adaptation of The Curious Incident of The Dog in the Night-time
When: In selected cinemas from Oct 4-15
-TimeOut