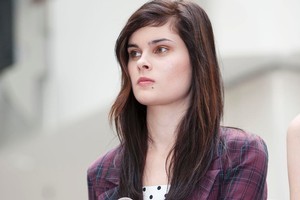 A Top Model finalist has failed to disclose convictions that will prevent her driving away with the winning car.
TV3 confirmed 17-year-old Rosanagh Wypych's convictions in a press statement today, after investigations by the Herald on Sunday. But the broadcaster refused to rule out handing her the keys to the winner's Ford Fiesta if she triumphs on Friday - despite convictions this year for drink-driving, driving while disqualified and giving false details to police.
Wypych, who has made the final three in the television talent quest, had owned up to a drink-drive conviction in a "tell-all'' interview with a women's magazine.
But a concerned Hastings Girls' High School parent wrote to this newspaper, saying the model might be a good model but was not a good role model - her tell-all interview had been anything but. She had failed to reveal two more convictions, just a month later, for driving while disqualified and giving false details to police.
The parent, who asked to be identified only as Chris, said Wypych had been caught driving in March after a "responsible senior pupil made a good decision'' and called police.
Wypych was a bad role model for young teenagers and claimed she bragged about her convictions on Facebook, the parent said.
Rosanagh had told Woman's Day she regretted getting in the car and was using her experience on New Zealand's Next Top Model as a chance to turn her life around. But speaking before today's choreographed publicity appearance at the St Luke's shopping centre in Auckland, Rosana said she couldn't talk about her convictions.
After questions from the Herald on Sunday, MediaWorks publicity manager Rachel Lorimer issued a press statement, saying Wypych had not declared her full criminal history to the network during auditions.
"She did not disclose a subsequent driving while disqualified incident that had occurred prior to the start of filming and resulted in a second court appearance and conviction,'' Lorimer said. "TV3 has investigated the matter, and Rosanagh remains in the running towards becoming New Zealand's Next Top Model.''
Lorimer declined to say whether they would hand over the car keys to Wypych if she was announced the winner during a live finals show at New Zealand Fashion Week this coming Friday.
Hastings District Court registrar Ron Garrick confirmed Wypych was convicted of driving while disqualified and giving false details to police just one month after being convicted for drink-driving.
Wypych had been convicted in February of driving with a breath alcohol level of 477mg, after drinking alcoholic punch at her father's home before driving to a party. The limit was more than three times the youth limit of 150mg, and also above the adult limit of 400mg.
She was disqualified from driving for six months and sentenced to 40 hours community work which she completed at a local SPCA - where she was working when judge Sara Tetro told her she had been accepted onto the show.
Wypych continued to drive her vehicle and was caught by police while on her way home from Napier to Hastings on March 23. She was disqualified from driving for a further six months, extending the disqualification till February 16 next year.