Hugh Sundae's weekly blog on series two of Masterchef New Zealand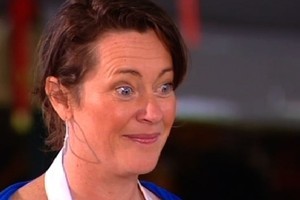 "You can ah, untie your apron." Simon Gault instructed Nadia Lim during the first of two elimination rounds.
What a shame I thought. She looked a contender.
Not one of those floaters who just happens to make the top four by being on the winning team of a few group challenges and having a bit of luck.
A real contender - like Poh Ling Yeow (Masterchef Australia season 1) - who seemed to have a knack of pulling brilliant ideas from nowhere and skirted the fine line between brilliance and madness.
I'll miss Nadia's food, I thought. But then, following a dramatic pause lasting 3 and 31 hundredths of a second - a long time in reality TV - Simon Gault completed the most ridiculous line ever spoken on television or otherwise.
"...and tie it up even tighter cause you're through."
Oh man, really? In the quest for supreme excellence in dramatic and unexpected twists, this was a shocker.
If you didn't see it, I'll remove my mid-phrase waffling so you can see it in its full cringe-inducing glory.
"You can ah, untie your apron, [pause] and tie it up even tighter cause you're through."
If Simon Gault served that line up to me at Euro I'd send it back to the kitchen.
But then I'd say "bring it back out because I really like it after all!"
In uttering these words Gault overtook Matt Preston - the cravat-wearing godfather of Masterchef Australia - who held the previous record.
"There are some dishes that are freakish Frankenstein disasters," Preston said of (Masterchef Autralia season two contestant) Aaron Harvie's pasta creation, "and quite frankly, that [holds plate out at arm's length and sends it smashing to the ground] is disgusting."
No point timing the pause on this one as it went to an ad break. Even then they drag it out more with replays of the plate dropping from different angles and Aaron's first-hand account ("he looked genuinely angry").
"Disgustingly good." Oh Matt.
In the words of Ray McVinnie, "I've a feeling of disappointment."
Do the producers of shows like this wake up in the middle of the night in sweats over lines like this? They should do. These kinds of amateur dramatics are the reason Masterchef UK purists struggle to come around to up-sized-tension NZ and Australian versions, if they ever do at all.
Still, I guess it's better than "hmmm, interesting", which is popping up more and more in this series of Masterchef New Zealand.
While we're serving up clangers, Rochelle Flavell - who last week wowed the judges with a dish that was apparently the most amazing dish ever made, ever - was eliminated after serving up eggs (the featured ingredient) and baked beans on toast.
I can kind of see where she was coming from. Take a seemingly simple meal and gourmet-it up the jacksy. It's a strategy that has worked for others but it wasn't to be for the landscape designer from Mangawhai.
The best bit about round two was surely no more egg-puns from the narrator (they better get cracking, cracked under the pressure, eggcetera). This time it was about cooking a steak to medium rare. Cut to the vegetarian.
Cooking a steak to medium rare, like poaching an egg or making mashed potato, is one of those seemingly straightforward tasks that many fail at. I know I do.
It's also a great tool when you have to eliminate a few hopefuls at once, and the judges took great delight in doubting the contestants' expertise, like in this bizarre rant from Ray McVinnie.
"I talked to Stu, I said 'how's it going Stu?' he said 'oh no problems here barbeque all the time', I said 'you're completely confident?', he said 'absolutely don't worry about me' he said. I said 'well I guess we'll find out', so I'm pretty curious just to see, you know, that he does know what he's doing." They do edit this show, right?
After the unexpected first-round success of Traceylee Hooton (poached-fried egg), her one-hour chutney got her through to the top twelve without blinking. No - I mean she doesn't appear to have ever blinked.
Having originally thought she was a bit of a shambles who had some luck, I'm beginning to think there is more to her than meets the eye. Or in her case, eyes.
It's only the second week, but I knew I'd be sad to see someone go. With only one place left, I was backing two of the final three. Although one of those was only really because she - Lidia Nowak - used to be my GP.
So I guess it was right that Fiona Read took the final spot, after being knocked out of Masterchef New Zealand's first season.
Now we have a final twelve, it's only been two weeks but it's good to see the back of the whittling down. The good bit starts now.
I can't imagine anyone overtaking Cameron Petley as my favourite, but I guess that's part of the fun. Maybe Sam Henderson will, he certainly got points for turning an unsuccessful omelette into egg noodles at the last minute - many would have choked.
Perhaps I'll show secondary school pride and back Rangitoto College student Michael Lee.
Or maybe I'll just keep watching and see who cooks best, like everyone else.
Episode 2
Best line: "I bloody hope so, mate" - Cameron Petley replies when asked "is this dish going to keep you in?"
Worst line: "You can ah, untie your apron, [pause] and tie it up even tighter cause you're through." - Simon Gault
Current favourites: Cameron Petley, Nadia Lim, Sam Henderson