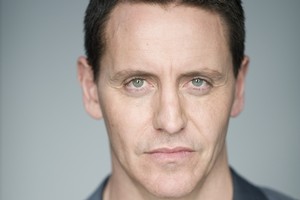 Promising new local mystery thriller This Is Not My Life might start with a scene familiar to many New Zealand households - Dad stumbles out of bed late, wanders dazed into kitchen to be greeted by his family, heads out for a jog.
Only in this case, Alec Ross (Charles Mesure, last seen bleeding to death in Outrageous Fortune) has forgotten a few things and not just his shoes or pants. He's running out in panic because he remembers none of it - his wife and kids, his gleaming showhome, his life in the Kiwi Pleasantville of Waimoana (town motto: "You'll never want to leave").
You don't actually hear Alec ask "what year is it?". But the first fun to be had with last night's engaging opening double episode of TINML was estimating how far into the future its makers have projected.
They've delivered some cleverly satirical touches about an eco-everything lifestyle. One that frowns on running up a carbon footprint overdraft and comes complete with speed-governed tiny electric smart cars with GPS systems which calmly greet you "kia ora ..." and "I'm sorry 'out of here' is not a destination".
Almost everything else works by digital touch-screen. How nifty. With its white-grey-blue colour palette and most people the amnesiac Alec encounters all models of politeness, it's like the future is one giant Koru Lounge.
To achieve that effect, the production makes great use of the designer subdivision of Omaha Beach to double for Waimoana.
And like one famous sometime Omaha resident, TINML is ambitious for New Zealand. Usually our small screen sci-fi efforts have been limited to kidult stuff. Apparently the idea for TINML was about teen angst - some of which showed up in a subplot in the opener's second half - not existential crises for adult amnesiacs.
But the first show indicated it has sufficient grown-up intrigue, compelling characters and special effects-enhanced production values to make it a challenging human drama and original enough as suburban sci-fi.
The performances, are universally solid. Physically, Mesure might seem a bit broad of shoulder to be an everyman figure, but he carries it off in a performance hinged on his expressive face.
Likewise Tandi Wright as Alec's forgotten wife, Callie, is impressive, even when the script is requiring her to harp on a bit. By the bloody end of the first episodes, it was already apparent that Alec's neighbourhood was looking more dystopia than utopia.
Certainly enough to inspire some speculation on whose life he's living.
Witness protection? He's a clone? He's actually been abducted to Planet Omaha? He's undergone some sort of reprogramming for fossil fuel excesses?
Will the nice folks of Waimoana's faces fall off to reveal hideous alien visages beneath - "kia ora, Earthling!" - whoops wrong show, that's V, now also starring Mesure, in a moustache.
Undoubtedly, it's none of the above, but This Is Not My Life looks like it will reward the time spent engaging your own grey matter to figure it out.
What: This Is Not My Life
Where: TV1, last night