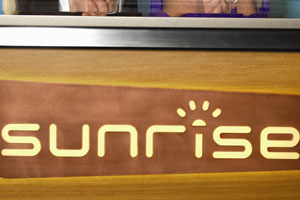 In a staff memo to all Media Works staff this morning, group managing director Sussan Turner informed everyone that struggling breakfast show Sunrise and ASB Business have been canned.
"It is with much sadness I am writing to inform you we have taken the very tough decision to cancel TV3's early morning ASB Business and Sunrise shows," Turner wrote.
"The production and operations staff involved with these programmes have just been advised of this news, and I wanted to tell everyone in the Company as soon as possible.
"Simultaneously, TV operations are planning for the implementation of some studio automation technology which will also impact TV operations staffing levels over the next few months.
"I want to assure you this is not a decision we have taken lightly, but only after significant consideration and discussion. In the end, it came down to what was the most appropriate thing to do for our business long term," Turner said.
Interestingly, Turner's name is not associated with the media release by Roger Beaumont, the company's director of marketing and communications.
Instead, Ian Audsley - the vehemently disliked Australian axe-man who was unceremoniously dumped from his role as chief problem fixer and leaves on May 29 with the blessing of Turner and her staff - is quoted in the release to media. Presumably, to the outside world, Audsley is seen as wielding the power.
"We have not taken this decision lightly," Audsley says in the release, "and it has been the subject of a lot of debate and discussion at both Board and Management level - ultimately it has been the Board's decision.
"Unfortunately this decision results in at least 20 redundancies across the Television business and that is the toughest aspect for all of us at TV3. We are, however, able to offer redeployment in some cases.
"Despite the terrific work of the people involved and the commitment of everyone at TV3, we've not been able to make these programmes work financially. Today's announcement is not a reflection on the calibre of the people involved in the production of the programmes. They're as good and capable a team as any I've seen anywhere," Audsley says.
News that Sunrise has been canned will be upsetting to former Media Works boss Brent Impey who fought for the show's survival during his reign.
Rumours persisted that Impey was dumped from his role when he gave the board an ultimatum to keep the show or lose him. Impey, like news man Mark Jennings, was of the correct belief that to be a news organisation the company needed a morning news show. Alas, making it work financially proved to be more difficult.
As Carly Flynn is preparing for impending motherhood, fellow Sunrise presenter Oliver Driver finds himself looking for work again. Driver was brought in to replace James Coleman on the show and increase ratings. He brought his dog Jack to appeal to the animal lovers. It appears even that gimmick wasn't enough.