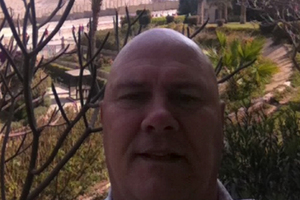 The National list MP from Te Atatu has embraced social media with the vigour of a giddy teenager. The Hon Tau Henare played Cairo tour guide this week for followers of his Twitter account, West Side Tory.
Henare is travelling to Egypt and Uganda to represent New Zealand MPs at an Inter-Parliamentary Union conference. With him is his wife of three weeks, Ngaire Brown. The pair, together many years, had a quickie wedding in Parliament on March 7 during a dinner break in the House.
The wedding was out of necessity as unmarried couples travelling in that part of the world are frowned on. "We weren't going to get married at all, we were just going to live in sin for the rest of our lives," Henare said.
But the wedding became the subject of a heated exchange in Parliament last week between former union secretary Andrew Little and Henare over the National MP's private member's bill to make all union strike ballots secret votes.
Little implied Henare was taking marriage lightly. "It's not as if, either for the member who is promoting this bill or for the party he comes from, there aren't some bigger issues to deal with in this day and age. It's not just about getting married so he can take trips to Uganda, either. It's [about]... important things we need to be doing."
Henare accused Little of taking a cheap shot at his wife. But the spat behind him, this week he became a Twitter tour guide, posting a commentary of his holiday with self-portrait pics and videos.
Henare bangs on about his flight: "Economy aint so bad. Heaps of Aussies on the flight. Watched 4 movies ... next to 2 hefty Russians."
The traffic is compared to home: "Cairo driving gotta be seen to believe. Worse than Ngapuhi driving."
And the romance of the pyramids and the sphinx starts a political debate about colonial ownership. "The nose of the Sphinx is in the British Museum. Time might be to give it back? Whaddya reckon?"
Tomorrow, Henare will get serious, heading the Kiwi delegation, including Labour MP Louisa Wall and Green MP Jan Logie, in Uganda, where talks will cover Aids, child malnutrition and sustainable development disaster risk reduction.
FUN PAR FOR THE COURSE
"I've never played Jacks Point but I hear it's beautiful and best if you stay out of the rough. Something that applies to politics but is proving a little difficult at the moment," John Key joked to The Diary.
The PM plays in a preliminary golf tournament at the NZPGA Pro-Am Championships today in Jacks Point, Queenstown. He'll be testing his swing against amateurs, including Hollywood actor Don Cheadle and 14-year-old Kiwi Lydia Ko, the world No 1 amateur woman golfer.
Cheadle took to social media this week to gush about all things Kiwi: from the scenery ("damn New Zealand, turn down the beautiful"), to our highest-grossing film ("my wife and I really enjoyed Boy") and hobnobbing with Key ("playing with the PM in a couple days").
BREAKFAST TURF WAR
Watch out Petra Bagust, and Rachel Smalley, television entertainer Leigh Hart is on your tail. The former Herald on Sunday columnist this week launched a new YouTube daily breakfast show called Head to Head.
"We discuss the big issues of the day, be they women breastfeeding in public, monorail initiatives, sexual performance advice, female orgasm myth, and of course voting for the best kebab shops in the city," Hart told The Diary.
Corporate brands are often blatantly incorporated within the content, "which ensures that wherever the clip is viewed the advertiser still gets noticed".
Hart is our answer to Jon Stewart and his deadpan programme, in the vein of The Daily Show, is sure to be a hit. Check out youtube.com/user/headtoheadnz for your daily fix.
HILARY HUMBLED
3News presenters Hilary Barry and Mike McRoberts could be forgiven for feeling humiliated after a case of mistaken celebrity identity on Wednesday, but the pint-sized presenter used self-effacing humour to tweet: "Caught a cab with Mike McRoberts this afternoon. The driver took us to TVNZ ... It's a really nice building compared to ours, I was a little sad to leave."
It's a pity some of her counterparts at the state broadcaster don't share her sentiments. Some, who want to remain nameless, told The Diary they're counting down the days until Michele Romaine exits the building. "Three weeks and counting," one senior reporter sighed.
British consultant Romaine has been minding the TVNZ news and current affairs fort until Ross Dagan arrives, but she's seen a steady exodus of talent flee the newsroom. Management positions and key reporting roles remain unfilled and staff morale is apparently at an all-time low.
BROWN GETS AROUND
Governor-General Sir Jerry Mateparae led the Kiwi delegation to Tuesday's Tongan state funeral of King George Tupou V. The official party included Acting Prime Minister Bill English, Foreign Affairs Minister Murray McCully, Pacific Island Affairs Minister Hekia Parata, Leader of the Opposition David Shearer ... and among others, Auckland Mayor Len Brown and city councillor Alf Filipaina.
Mr Brown gets around: Next month, he's leading a trade delegation to China with former Labour Party MP and current Auckland councillor Richard Northey in tow.