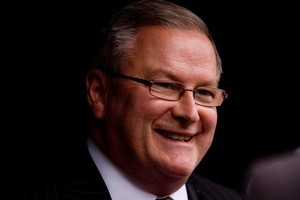 Outgoing TVNZ boss Rick Ellis says the Paul Henry saga was one of the low points of the years he spent at the state broadcaster's helm.
The company announced yesterday that Ellis had resigned and would take up an Australia-based role with Telstra in January, heading a new division called Telstra Digital Media.
"The low-lights are always when people let you down and their behaviour reflects badly on the company's reputation," Ellis said yesterday.
Former Breakfast host Paul Henry left the broadcaster last year amid a storm of controversy after he ridiculed the name of an Indian politician, Sheila Dikshit, while on air.
Ellis said dealing with the debacle had been challenging. "It was tough from the point of view that it had blown into a major diplomatic incident that inflamed attitudes."
Ellis said the ethnic communities affected by Henry's comments "often don't have a voice". "It was an unusual situation to deal with."
But Ellis, who spent a cumulative 10 years as TVNZ's boss during two terms as chief executive, said he did not dwell on the negative aspects of his time at the state broadcaster.
"I'm an eternally optimistic person," he said.
"I don't think of things in terms of huge highs or huge lows - I'm just pretty much steady as she goes."
TVNZ chairman Sir John Anderson yesterday acknowledged the time Ellis had spent with the company, saying TV1 and TV2 had consolidated their leadership in the free-to-air market and the company had diversified into digital media including online, pay-television and new free-to-air channels.
Ellis said his priority when he returned to TVNZ in 2006 was to deliver the commercial success the Labour Government wanted, while also adhering to the objectives of the broadcaster's charter, which was axed by National after the party came into power in 2008.
Ellis said he was "enormously pleased and proud" of TVNZ's strategy, rolled out in 2007, of "inspiring New Zealanders on every screen".
Ellis said he did not regret TVNZ's ill-fated investment in digital recorder TiVo, which wiped $17.7 million off the company's bottom line in the year to June.
"TiVo has not been the success that we'd hoped for," he said. "Having said that it hasn't been a disaster, per se, there's tens of thousands of happy TiVo users out there."
TVNZ's highest earner - believed to be Ellis - was paid $910,000 to $920,000 in the year to June this year.
Ellis said: "I think I've been appropriately remunerated for the job that I've done."