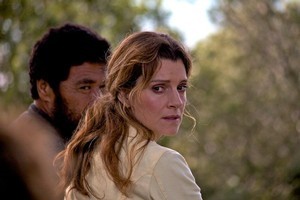 Even before the kickoff for the final on Sunday, television advertising in the Rugby World Cup is being written off as a creative dead zone.
The games have been fantastic television, but few TV commercials around them have been entertaining.
"Ads have been interruptions that do not bring any added value for viewers," said advertising commentator Martin Gillman.
Another adman said: "This is an event that is not going to happen again for a long time. It's surprising that so few advertisers took the opportunity to stand out."
The ad space between the national anthems or haka and the start of the game - created by the International Rugby Board to boost revenue - had been particularly disappointing,
"There's been no sense like with the Superbowl in the United States that these prime spots should be the showcase for advertising," Gillman said.
"I thought retailers would have done something special."
Other ad folk blamed the restrictions around the event by the IRB.
"I think some advertisers just did not want to make the investment because of the restrictions," said DDB Advertising executive creative director Toby Talbot.
The risk was that ads would be found in breach of rules and advertisers would lose out on production costs.
SCREAM
DDB stands by its ads made for the ANZ Bank and the drill sergeant campaign for Sky. But both suffered from being on such a high rotate that viewers wanted to scream.
DDB's Steinlager ambush white-can campaign worked and Toyota's Hilux ad was a success. Gillman said the best advertising was for companies that weren't official World Cup sponsors, like the smart billboard campaign for Vogel's bread.
But where were the brilliant ads for big-spending global sponsors Heineken and Mastercard?
"When I look at the local official sponsors for the broadcasting coverage - Telecom, Bunnings, The Warehouse and Harvey Norman - I wonder why they bothered paying twice the normal rate to be included in the RWC package," Gillman said.
"Telecom really stuffed up with their invisible range of commercial promotions. With the 'Abstain' campaign being pulled, it seemed like there was nothing there to replace it," he said.
He predicted advertisers would think twice about big future sports packages, because of the heavy policing and ambush campaigns. "Everyone will take stock on what happened."
BUSINESS AS USUAL
Gillman - and other folk who contacted this column - have been most animated by Bunnings Warehouse and its "business as usual" approach to advertising inside the Rugby World Cup. It's the usual old ads for the likes of hardware and fencing wire.
It has broadcast sponsorship working in partnership with all four tournament broadcast networks (Sky, TV One, TV3 and Maori TV), so invested heavily in the tournament,
A spokesman said: "Bunnings has a tried and trusted advertising format that focuses on communicating our lowest price, widest range and best service offer using the Bunnings Red Shirt Team Members as the constant theme that our customers recognise and like to see.
"We create new advertisements for all campaigns, and during RWC 2011 have filled these with relevant products for spring and the upcoming long weekend.
"It is also important to note that as a broadcast sponsor only, Bunnings is limited in terms of what can be said or implied in an advertising campaign.
"We worked within the parameters set out clearly within the Major Events Management Act 2007," the company spokesman said.
MOONDANCE
District Court Judge Rosemary Riddell made her feature film debut as director of The Insatiable Moon which has several finalists in this year's AFTA film awards.
The film about a Ponsonby half-way-house - largely shot around the Three Lamps area - was a small but uplifting movie made on a shoestring.
Judge Riddell knows her way around drama and was once an actor for Downstage Theatre. She also made an award-winning short film. But it was a big step up.
The judicial input was just one intriguing factor in the way this story made it to cinema screens in Britain and New Zealand, appearing on the Rialto channel and on DVD.
Judge Riddell is the partner of producer Mike Riddell and stepped into the breach when talks fell apart with the New Zealand Film Commission, which had planned to fund the movie.
The Insatiable Moon was to have had a Scottish director, and British stars. Timothy Spall was to play the owner of the half-way house and James Nesbitt the local minister.
The original budget was about $6 million, which is very small by international standards but respectable in this country.
But in the end it was made for just $350,000. Producer Mike Riddell said the film commission (under a previous regime) kept changing its mind about what it wanted from The Insatiable Moon.
Commission staff obliged to look for box office returns didn't like the idea of a movie about psychiatric patients.
It wanted to emphasise the religious aspect, and then to give a bigger role to a woman TV reporter, he said, to the point that funding was withdrawn.
But producers who believed in the idea and local investors made the movie on their own terms and with a good outcome.
Riddell acknowledged the film commission is between a rock and a hard place, with obligations to make New Zealand movies that have the ingredients for box office success.
INDEPENDENT
Insatiable Moon is represented in six film categories for the AFTA awards. They are: Best lead actor, Rawiri Paratene; best lead actress, Sara Wiseman: best supporting actor, Greg Johnson; best supporting actress, Teresa Woodham; best screenplay, Mike Riddell, and best original music, Neville Copland. By their nature, awards should be on the creative product.
I'm in no position to judge the movie against other contenders. But amidst the plethora of awards there should be one for independent spirit - being creative without a handout.
ELECTION PLANNING
TVNZ is paying for head of news and current affairs Anthony Flannery to attend a new bosses conference in Cascais, Portugal, even though he'll be leaving the company for Australia's Network Ten soon after he gets back.
You have to wonder what is in it for TVNZ. Time is tight - and Flannery is supposedly organising election coverage.
It is not clear whether there will be other chores while in Europe. TVNZ said that his attendance had been organised months ago, and it was being paid out of commercial revenue. He will be part of a panel discussion on "preparing for a disaster at home", said a TVNZ spokeswoman.
One wag suggested that the discussion might be relevant to Flannery's new role at the troubled Ten.
News management consultant Michele Romaine will fill in while TVNZ finds a replacement, though some believe she could be a contender. It is understood there have been a few approaches to take over Flannery's role from New Zealanders wanting to come home.
Other names mentioned in dispatches include Max Uechtritz, a former news boss at Australia's ABC and head of Nine News. Meantime, one of Flannery's last jobs is to appoint a new Europe correspondent. Paul Hobbs' term has come to an end. The London job is treated as something a of a prize among news staff. It is understood Garth Bray has put his hand up, as has Australia correspondent Steve Marshall.