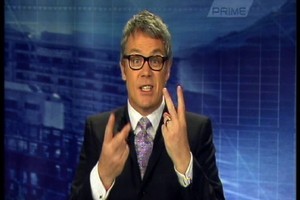 It was a gesture meant for a colleague, but Prime News presenter Eric Young goaded viewers around the country after being caught off-guard by the camera last night.
Young had just finished reading over a clip about Wellington's victory over Northland in the ITM Cup, which ended with a reference to last night's match between Auckland and Counties Manukau.
On the word "Auckland" the picture cut back to the studio, to reveal an animated Young with both hands up giving the fingers.
After what felt like the longest second or two in the world, Young realised he was on air but kept a remarkably straight face as he finished the script.
Young told the Herald last night it was the most embarrassing incident in his 22 years on television and apologised for any offence caused.
"I'm genuinely mortified. That sort of stuff is in-house banter.
"That should never leave the newsroom, and I'm just so embarrassed that it got out."
The gesturing was aimed at a producer who supports Counties Manukau, he said.
"He has it coming every time I say those words out loud. And I always do that, every time I say those words.
"It was just a slight disconnect between me and a director."
Veteran broadcaster Paul Holmes said gesturing and banter were common in news studios, but the stakes were higher than in normal workplaces.
"I guess sometimes you can get caught out, can't you? Just like the microphone's always live. And the camera can be always live too. That's live broadcasting."
Holmes said most viewers would see the humour in what was obviously a genuine mistake.
"Eric is a very good broadcaster and a very good writer. And it's just a bit unfortunate."
A Sky spokeswoman said it would be decided today whether any disciplinary action would be taken against Young.
"It does appear to be a slip of professionalism. It was not appropriate and we are disappointed."
Young is not the only news presenter to be caught off-guard by television cameras.
In 2009, One News anchor Wendy Petrie pumped her fist after a live cross during coverage of David Bain's court case, not realising she was still on camera.