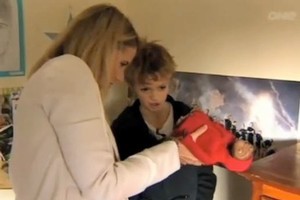 She may spend a lot of time enhancing her image, but the recent copycat behaviour was not a good look.
Close Up reporter Kate Lynch's article about foreign goods in a Kiwi family household became the subject of ridicule after it was exposed as being virtually identical to one an American affiliate network showed earlier this year.
Close Up was forced to admit the stories were too similar and apologised on air last week for the embarrassing case of apparent plagiarism. However, the reporter presenting the story is yet to say she's sorry to colleagues.
Lynch faced serious questions last week from her bosses Mike Valintine and Anthony Flannery and a thorough investigation with TVNZ's human resources department is underway as to how it happened and who is responsible.
The investigation will reveal who is culpable and a decision is expected today or tomorrow. I understand whatever is unearthed about Lynch's responsibility in the apparent case of plagiarism, it is unlikely she will lose her job.
Insiders say Lynch insists that the rest of the Close Up team knew what she was doing and approved it.
"The producers definitely knew she was doing a reversion of the US story," a TVNZ mole told me, "but I don't think they realised it was a word-for-word replica. That is all on her."
Colleagues in the newsroom are furious Lynch hasn't accepted personal responsibility and a few spoke to me under condition of confidentiality.
One co-worker questioned whether other stories she had filed should be checked. Another said: "I've never seen so many people upset. They're pissed off. It's a unilateral response across the newsroom. It's not our practice to copy other people's work. We don't approve of it."
Whatever Lynch's involvement, she isn't making many friends and influencing people in the TVNZ newsroom. She has a big task ahead mending the bridge she has seriously broken.
Sources say she is pushing to get transferred from Close Up to One News, but that may now be unlikely. Network insiders tell me Lynch has wanted to get out of the current affairs show for the past six months. It's no secret she harbours plans to be a news anchor.
However, when you become the news, instead of presenting the news, that may pose a problem.