Technology is changing so fast nowadays it's hard to keep up. We put a group of youngsters to the test with gear that was cutting edge when we were their age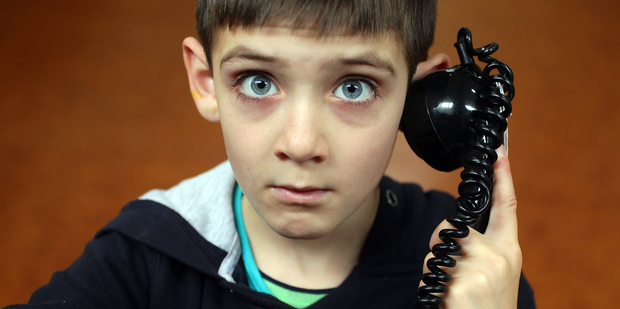 Do you still have an old ghetto blaster? How about a typewriter? It's not long since they were common in every household but they have been overtaken by the onward march of technology.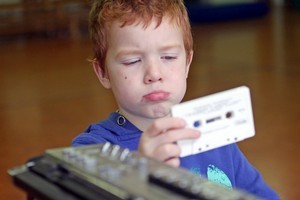 As school holidays wrap up, the Herald on Sunday took a group of youngsters who can happily download apps to see what they made of "olden days" gear.
The 6- to 11-year-olds were given:
• a "ghetto blaster"-style cassette deck
• vinyl records
• a rotary telephone
• a retro hairdryer
• a typewriter
The kids recognised most items but were far from certain of their purpose or how they operated.
Freddie Marx, 6, was evidently influenced by DJs of the day as he scratched vinyl records with his fingernails, and 10-year-olds Rachel Huang and Brooke Te Wake tried to insert cassette tapes into the tape deck while still in their cases.
Rachel Nicholas managed to get the stereo working but emphasised that her iPod was much easier to use. None of the children knew what the hairdryer was.
It came as no surprise to Science Media Centre manager Peter Griffin that the children were flummoxed by these objects.
"There's a whole collection of technology that many of us know intimately, even if we don't necessarily use it any more, that kids will never get their hands on these days," he said.
Video: Watch the children's full responses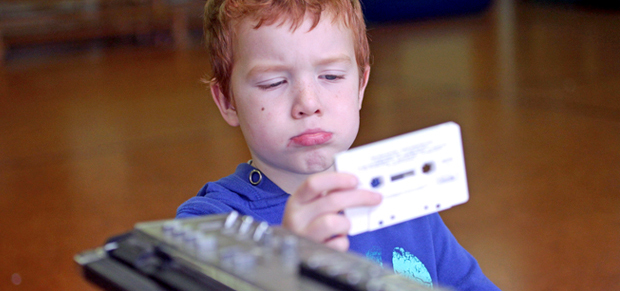 "For example, the typical kid who wants to play music now will not even do it through a physical piece of media like a CD or even a memory stick. They'll just listen to it as a stream of data from the cloud."
And Griffin believes we are only a few years away from kids confused by the new iPhone 5. Technology is advancing at such a rapid rate that it will soon be seen as a clunky relic.
The shift now is towards wearable technology. The latest big-tech mantra is "glanceability".
"Instead of having your face stuck in your smartphone, the likes of Google Glass allows you to just glance at your digital life but not have it be too intrusive. The next iteration in 10 years or so will be something that's beamed to the back of your eyeball."
Griffin said the change was occurring more rapidly now than between the 1980s and 90s when technology moved from analogue to digital.
"Tech companies are designing their products for only two or three years because they know that in that period, the typical cellphone or computer user will be updating their device. They call it 'building in obsolescence'.
"I think in a few years, people will look at the iPhone 5 and see it as incredibly clunky and old-school."
• The items presented to the children were from Junk & Disorderly in Northcote.
Bewildering world of old technology
Brooke Te Wake, 10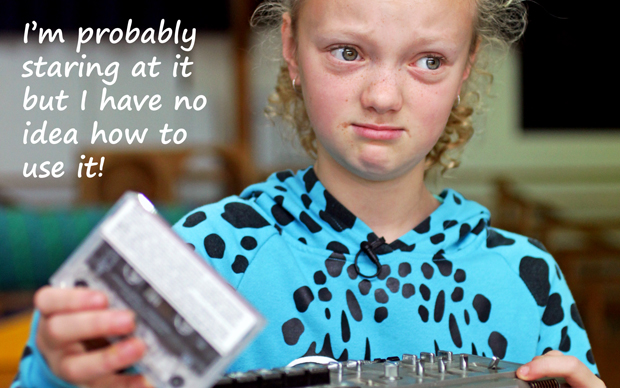 Correctly identified: 3 out of 5 items
Brooke picked three of the five items, failing to identify the hairdryer and cassette player.
She was most perplexed by the cassette player, first unable to find the eject button, then trying to insert the tape while it was still in its case.
"It won't go in," she protested. "I'm probably staring at it but I have no idea how to use it." She said she'd seen one of the old dial phones at Motat, and recognised the record player from Scooby Doo.
"You put them on this big thing and there's, like, this big-shaped thing that you put your hand in and music comes out of that," she explained.
Freddie Marx, 6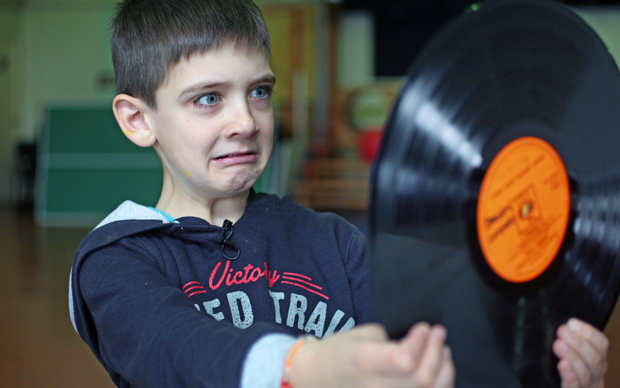 Correctly identified: 3 out of 5 items
Freddie identified all but the cassette player and the hairdryer, although his use of the vinyl wouldmake record collectors' stomachs churn.
"I know you can make scratching sounds with them," he said as he ran his fingernails across the surface of the disk.
He identified the telephone but held the receiver up the wrong way.
Freddie said the stereo was a radio and didn't know what the cassette tape was. "How do you turn it up?" he asked as he furiously turned the tuning dial.
Rebecca Nicholas, 9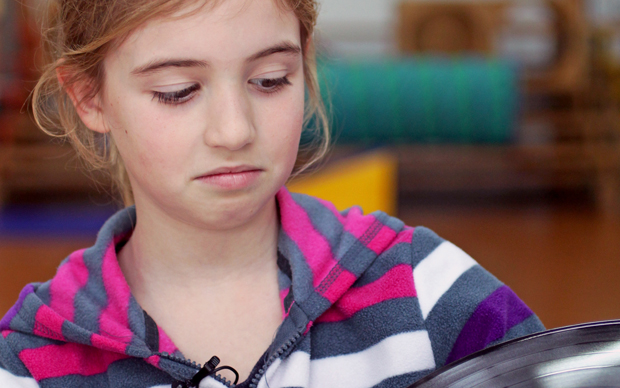 Correctly identified: 4 out of 5 items
Rebecca identified everything but the funny-looking hairdryer, which she thought might be some kind of mini vacuum cleaner. And she initially thought the record cases were books.
"They look like newspapers," she said. "Because it's just black and white and has lots of writing inside."
When she found the records inside she realised they were disks of some kind. She said her iPod was much easier to use than the clunky stereo, which she managed to get working after a bit of prodding and poking.
Rachel Huang, 10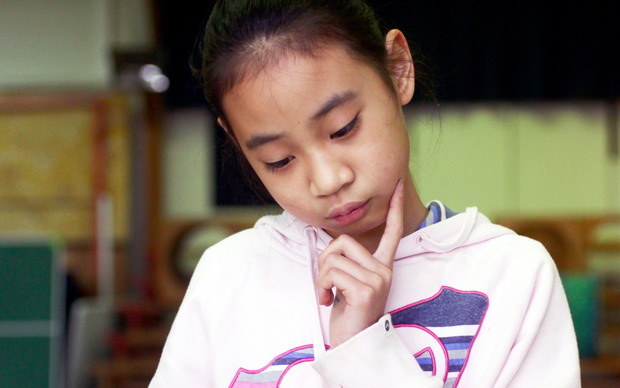 Correctly identified: 2 out of 5 items
Rachel couldn't identify the hairdryer, cassette player or the records,which she thought might be big CDs. "You can buy a really big CD player," she said.
After prompting, she recalled seeing something resembling a record player in the past. "It's, like, you put it on to this thing called the thing and there's this trumpet thing. It looks like a flower thing and then you put it on and then it starts, basically."
She was startled by the whirring of the tape deck when she hit the rewind button. "That scared me," she said. She didn't realise you needed to open the cassette case to get the tape into the machine.
She recognised the phone from old movies she had watched with her grandma, but didn't know how to dial.
Lily Marx, 8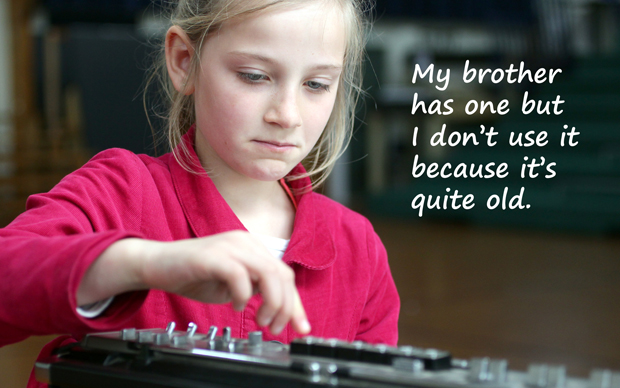 Correctly identified: 3 out of 5 items
Lily identified three items, but not the hairdryer or cassette player. She thought the records were books until she looked inside and found the disks.
Lily was perplexed by the cassette tape, which she put in the wrong way and in the wrong slot.
"My brother has one but I don't use it because it's quite old," she said.
Eamon Rooney, 11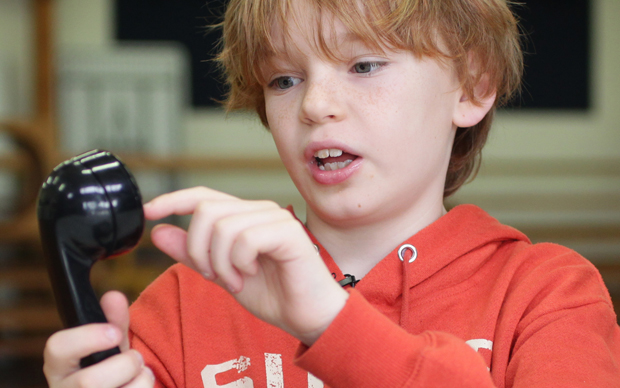 Correctly identified: 4 out of 5 items
Eamon identified all the items but the hairdryer, although he had some slight misconceptions about some of them.
He was most assured when he identified the vinyl records, or LPs. "They're MLPs," Eamon declared.
"You put them on a little table thing and it plays music." He was equally assured when he went to work on the typewriter,which was "like a really old computer".
He rolled a pile of paper into a tight scroll and jammed it into the device.
"And then you type," he said. "You type stuff and it all moves this thing along with the paper."
He suggested the hairdryer might be a machine for blowing bubbles.