Apple Watch writer Mark Webster is in San Francisco for the Apple Worldwide Developers Conference (WWDC).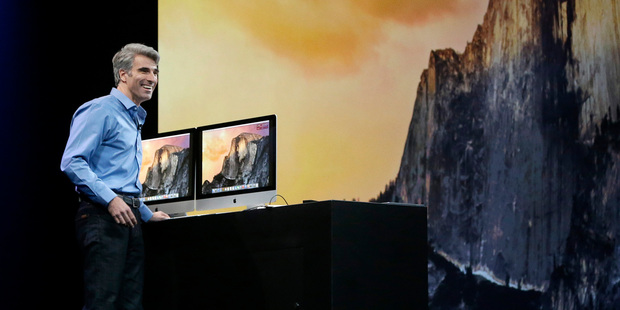 I finished my WWDC keynote coverage with 'this is a new era for Apple' and I believe that. Developers must really feel loved, if they didn't before, and all the new code, and the new coding platforms, and the new and easier-to-use integration of iDevices with Mac shows a focus on the consumer as well. It makes that oft-touted Apple 'walled garden' even more perfumed and shady. And if you're outside it, even more of something to criticise, I suppose: the candy shop window looks pretty inviting, but the door's closed.
Swift, the new programming language Apple revealed yesterday, will be revolutionary for app developers. It's easier to learn and faster and takes far less coding to achieve results. We had a quick word with Tom Mainelli, an analyst at IDC (and formerly a senior editor at PC World). He thinks Swift is a huge support to the developer community. For consumers, he's excited about iOS 8 plus Mac OS 10.10's new Transition feature which lets all Apple devices talk to each other properly. Mainelli thinks Apple has done the homework with this year's WWDC to give it such a powerful developer focus and no product announcements, rationalising: "This is a long game for them."
With the new coding platform Swift and all the new APIs and other advances do a lot to strengthen the Apple ecosystem, the latest WWDC is a real shot in the arm for developers. They were happy campers at the keynote and now have a whole week to revel in the new stuff amongst their own kind - ardent experts who create the things that make our excellent devices even better. Their WWDC knowledge will then emanate out into the wider developer community, and Apple users will all be better for it. Whereas last year the loudest cheers came from the section of the hall where the press was seated, this time the press section was quiet while the much larger developer areas were rowdy and happy.
Read more:
• Apple Watch Special: Transition time at WWDC
• What Apple-Beats union may mean for iTunes users
Jim Dalrymple of The Loop (I mentioned him yesterday) ending up sitting in the same row as me, but I lost him when the event finished, so I checked back at his site to see what he thought of it all.
"What Apple did today at WWDC was ensure that, as a consumer, I'll be a happy iPad, iPhone, and Mac user for years to come."
Later that afternoon, after the keynote and the trip back to the hotel to file stories, I walked back down to the Moscone Center. Somewhat hilariously, a tall Caucasian man with IT-nerd-style trimmed facial hair was loudly telling two Afro-American buskers that "Nig-nogs are taking over everything! They've taken over television and they're taking over the internet!" The two buskers were as incredulous as those quickening their pace to pass by. Nutters are everywhere, here. They're out on the streets and can inconspicuous until they proclaim.
That afternoon I went down to the Moscone again to get a look at a Ford Mustang (a Foose conversion of a '65, very nice) with an after-market Pioneer CarPlay head unit installed into it. The Apple guy guarding it may only have been at Apple a year, but he was already well versed in secrecy. After telling me he used to work at Ford (his knowledge of the car was detailed), I asked if he was headhunted by Apple or looked for a job there, and either way, did it have anything to do with CarPlay specifically? He smiled disarmingly. "Let's just say I was in engineering at Ford, so Apple is a good fit."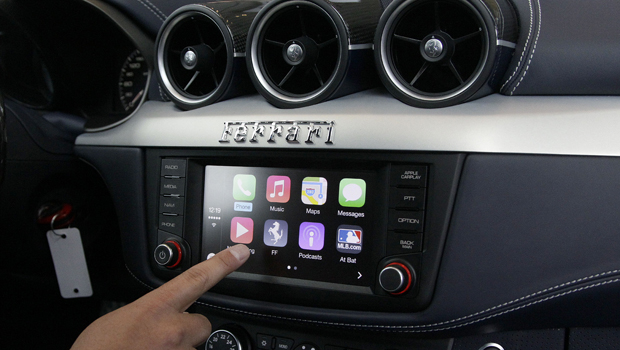 Stephen Chick with Apple gives a demonstration of CarPlay in a Ferrari at the Apple Worldwide Developers Conference in San Francisco. Photo / AP
Seated in the car (under supervision!), I plugged my own iPhone in. Immediately, the screen of the head unit looked like my iPhone with Music, Maps, Contacts and a few other icons displayed. I tapped on Maps - all my previous searches showed up (I never did find that organic coffee place). My last few phone calls were displayed, and the last few email messages and SMS messages are available. The Apple bloke sitting in the driver's seats got me to tap the Siri icon and ask for Sushi. Immediately a list appeared. Tap one that's offered and turn-by-turn directions appear. Nifty. You can ask Siri to play a song through the car's sound system, message someone, etc. The only downside is for some things you have to physically tap icons sometimes - there's no configurable buttons on a 1965 Mustang steering wheel, but I was too reverse-snobbish to check out the unit in the Ferrari. And besides, no one's going to want to take their hands off that Mustang wheel!
Anyway, so over the last few months Apple has been working hard behind the scenes to tune and hone its software products. The developers get a few months' grace to figure out - and take advantage of - all the new stuff, and then we consumers get iOS 8 and OS X Yosemite in the US Fall (our Spring). Apple has made it possible for the next two operating systems to work very well together and give consumers some wonderful features while resisting putting out a new hardware product for the sake of the opportunity of all that focussed media attention. Apple concentrated on talking about things that were proven and ready to use ... for developers. All this should make Apple fans happy, but it's a bold statement that not everyone will appreciate. Change is in the air: less showmanship and more substance - for WWDC, at least.
Watch: Apple updates OSX, IOS

But while Apple had the chutzpah to not launch a hardware product if one wasn't ready (I reckon we might see a minor iMac refresh soon), the other journalists I talked to were worried about their readership back home. Developer stuff is just unintelligible to many readers; a new product is always easy to talk about.
Meandering back to the hotel, a man asked me, almost unintelligibly, for coins so he can 'buy a sandwich'. The coins I have are NZ, and the US note I have is a $20. I apologise sincerely. He's not buying it.
"Do you believe in karma?"
"No."
"Do you believe in God?"
"No."
"Do you believe in life?"
"Well, of course."
"Can I have some coins?"
"I'm sorry, I don't have any." Grumbling, he ambled off. Geary Street goes into the strange - and, some say, dangerous - Tenderloin District in just one block from the hotel.
The next day I visited three developers, so I will write about what they do soon. They create exciting - and very tangible - apps that deserve all the success they get.