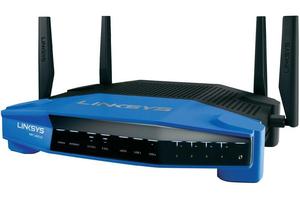 Prequels, remakes and reboots are hugely popular. Cars such as the Mini, movies and several bazillion TV shows - there's literally too many to name - have all had the remake treatment.
There's a good reason for these. Some of this old stuff was good, even great. It's also a great chance to revive nostalgia around a particular car, movie or TV show and to incorporate circa 2014 tech to make it even better in that its original makers could never have anticipated.
Look and feel
The same goes with routers. Take Linksys's WRT 1900AC router. It's a retake of the classic Linksys WRT54GS 802.11g router which was hugely popular back in its day.
Many are still in use. They're built like brick-you-know-what-houses. They also offered excellent performance and were highly customisable thanks to open source firmware support.
The WRT1900AC takes what was great with the WRT54GS and adds a double shot of 2014 tech to make it even better. After testing I've concluded that It's a real performer.
Looks-wise the WRT1900AC is easily confused with its older sibling. The router itself sports a similar layout and shape and is even done out in the same striking blue-black finish as the WRT54GS.
Spinning the WRT1900AC around reveals a bevvy of connectivity options. About the only thing lacking here is a kitchen sink. It has 5 gigabit Ethernet ports and also comes with one USB 3.0 port plus another port that'll work either as a USB 2.0 or an eSATA port.
On its front, there's the usual array of LED indicator lights that'll show the status of the router. For those that find blinking LEDs an annoyance, Linksys have included the option to turn them off.
Performance
Powering up the WRT1900AC reveals it to be pretty capable performance-wise.
The WRT1900AC delivered solid WiFi coverage. Its storage functionality proved to be the equal of most dedicated home NAS boxes. This said, The WRT1900AC's web admin console is likely to flummox many less savvy home users.
For those with challenging home networking environments wanting performance, the WRT1900AC offers solid performance.
In Use, the WRT1900AC was no slouch.
Capable of peak theoretical speeds of up to 1,300Mbps its real world performance didn't dissapoint.
On 5GHz, I got 521Mbps. Moving to the other side of my house saw speeds drop to a still zippy 341Mbps.
Connecting to 2.4GHz I averaged 168Mbps when close to the router and just over 50Mbps from the other side of the house.
Coverage spanned my entire home and a good chunk of my property. This is no mean feat. The WRT1900AC's signal had to pass through several walls and deal with dozens of other Wi-Fi devices throughout my home and my neighbours. Walls put a dent in Wi-Fi signals, while other Wi-Fi devices create interference. None of this appeared to be a huge problem for the WRT1900AC.
Under the Hood
The WRT1900AC may bear more than a passing resemblance to the WRT54GS but those similarities are only skin deep.
Under its hood are components that are a quantum leap over the decade old WRT54GS. My home networking environment is tough on routers. With dozens of wired and wireless devices scattered throughout my home, Router resets tend to be a frequent and regular event.
Not so with the WRT1900AC. It proved to be bomb proof and stable. This is due to its muscular spec. Running a 1.2Ghz ARM dual-core CPU, and 128MB of flash storage plus 256MB of RAM, it handled my full-on home network with ease.
Better still, even more functional enhancements are likely via open source firmware. Firmwares such OpenWRT as well as DD-WRT and Tomato will be available for the WRT1900AC in 2-3 months.
Getting set up
If the thought of RTFM (reading the flipping manual) gives you hives, there's good news. The WRT1900AC's default settings are on its underside, making getting set up a quick job.
Configuring the WRT1900AC means acessing its web admin console. This is done via a web browser of a connected PC or over the Internet (which requires you set up a free Linksys Smart Wi-Fi account).
There's also a mobile app (for Android and iOS) that'll let you tinker with the WRT1900AC's settings from a smart phone.
Bells & whistles
The WRT1900AC is also pretty feature rich. Its Network Map shows connected devices by connection types or by type of device (PCs, printers, and unknown). In practice this was a great way to manage home networks as connected devices can be edited, blacklisted and secured.
Data Prioritisation is another feature that'll appeal to gamers or those using streaming services. In a nutshell it lets users decide which connected devices are in the High priority queue or the Normal priority list.
High priority gives speedier access to the Internet. This can be the difference between stuttering YouTube and smooth video streaming.
An Internet Speed test is also baked in as are Parental Controls. These let parents block access to the Internet or even specific Web sites. Parents with Kids needing motivation to get homework done will probably appreciated its ability to schedule access to websites.
There are also two guest networks (one on 5GHZ and the other on 2.4GHZ) which can handle up to 50 guests.
Another handy feature of the WRT1900AC are its USB ports. External hard drives can be hooked up, to become network attached storage.
The benefit of networked storage are huge, especially in a family situation. Documents and media sit in a single location and can be accessible to the entire family. Media libraries are also playable for music players and media streamers scattered around the house.
Getting set up was as easy as plugging in the drives. The WRT1900AC plays nice with external drives of any capacity and most formats. Getting music to play on the various SONOS units throughout my house proved to be seamless. Various PCs throughout my house were also able to access and store data. The WRT1900AC also supports UPnP and DNLA making stored media playable over media streamers.
Verdict
The WRT1900AC is a great Wi-Fi router that'll keep getting better once open source firmware becomes available. About the only thing missing is a DSL modem. This said, its performance and specs do mean that you get great bang per buck performance. As a NAS server and an 802.11ac router it delivers solid performance.
Tech Specs
RRP $349.95
CPU: 1.2 GHz dual core ARMbased
Theoretical peak throughput:802.11b (11 Mbps*)
802.11a/g (54 Mbps*)
802.11n (2.4 GHz 600 Mbps*)
802.11ac (5 GHz 1.3 GBps*)
Bands: 2.4 GHz and 5 GHz
Encryption: 64/128?bit WEP
WPA2 Personal
WPA2 Enterprise
VPN Support:PPTP
IPSec pass through
Streaming: UPnP Server
Memory:128MB Flash/256MB DDR3 RAM
Ports: 1x Gigabit WAN port
4x Gigabit LAN ports
1x USB 3.0 port‡
1x eSATA/USB 2.0 port
*theoretical peak speeds, speeds can vary.