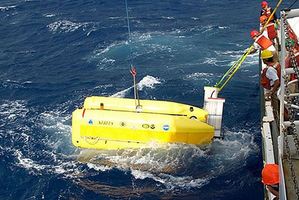 Hollywood director James Cameron is among those lamenting the loss of a robotic research submarine which imploded in the Kermadec Trench.
The submarine Nereus was lost at sea on May 10 while diving at a depth of 9900 metres in the Kermadec Trench, northeast of New Zealand.
In a statement posted to the research group's Facebook page, Cameron said he felt like he had lost a friend.
Cameron, who owns a large property in Wairarapa, said after losing a "bot'' inside the Titanic wreck during filming, he knew how the research team would be feeling.
"Nereus was an amazing, groundbreaking robot and the only currently active vehicle in the world that could reach the extreme depths of the ocean trenches. This is a tragic loss for deep science.''
Read more:
• Remote controlled research sub lost off NZ coast
Cameron's statement on the Woods Hole Oceanographic Institution (WHOI) page said the ocean's deep trenches were the last great frontier for exploration on the planet.
"It's so hard to get funding for deep ocean science, and it took them years to put this expedition together.
"Perhaps this is an opportunity to evaluate how thin our capability is as a nation, that the loss of a single vehicle now denies us access to an area the size of North America - which is what the combined area of the deep ``hadal'' trenches equals. A dark day for many reasons.''
The unmanned vehicle was part of a mission to explore the ocean's hadal zone, from 6000m to nearly 11,000m deep. It's likely to have imploded under pressure of up to 16,000psi.
Nereus was built at WHOI in 2008, said chief scientist Timothy Shank.
"It was a one-of-a-kind vehicle that even during its brief life, brought us amazing insights into the unexplored deep ocean, addressing some of the most fundamental scientific problems of our time about life on Earth.''
The team lost contact with the sub seven hours into a nine-hour dive. Debris from the wreckage was later found on the surface.
- APNZ