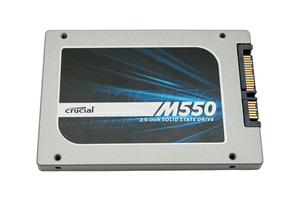 I made the leap from home computers using cassette tapes and 3.5" floppy disks to an IBM XT PC with a hard drive in the early 90s.
Back then it was a game changer. I had a whopping 40MB of storage which seemed massive. The fact that it sounded like the love child of a concrete mixer and a refrigerator didn't enter the equation.
My first MS-DOS PC may have been creakily ancient, but there were upsides. It didn't need a hard drive activity indicator because you could hear its hard drive working from the other side of the universe.
Things have since changed for the better. The hard drive controller on my ultra-book has a cache that's about 7 times the size of my original PC's total capacity. Multi-terabyte drives are also becoming the norm.
My Ultrabook is also equipped with solid state drives that will speedily retrieve and store data using NAND memory with no moving parts.
Since solid state drives are electronic and not mechanical, access and seek times are incredibly fast. Power on an SSD equipped device and it'll be usable in seconds rather than minutes. Forget about making coffee while you wait for your PC to start - you won't have time.
SSD's are small too. Traditional hard drives look like windowless buildings with data and power connectors by comparison.
The Micron M550 I tested is a mere 2.5" and is wafer thin. Petite solid state hard drives have the added benefit of allowing manufacturers to build slimmer PCs. This is a big thing. In the tech game, size matters and smaller is usually better.
SSDs are also great for notebook PCs as they have no moving parts. This means they're not sensitive to the drops and bumps that'd leave most hard drives damaged. SSDs can withstand up to 1,500G's of force before they'll malfunction - about 25 times what you can apply to a typical hard disk.
Another crucial measure of any data storage is MTBF or "Mean Time Between Failure". All computer components eventually wear out, but the failure rate increases with mechanical components. Even though mechanical disk designs have improved over the years, failure can still happen at any time.
The MTBF for SSDs is usually far superior to that of mechanical hard disks.
Features & Other Bits
None of this escaped the attention of chip makers, many of whom have headed into the solid state storage market to offset falling memory chip prices.
Micron Technologies' next-gen SSD is the M550. Not only was it pretty zippy, but it also packed a bunch of useful features.
Performance-wise, the M550 was quick. Not only did it leave my PC's mechanical hard drive choking in its dust, it also consumed as little as 0.15 watts of power while doing it.
This is due to Micron's 20-nanometre multilevel cell (MLC) NAND design and custom firmware. Both of these allow the M550 to deliver up to 95,000 input/output operations per second. The M550's sequential speeds reach up to 550 MB/s for reads and 500 MB/s writes, both of which pushed my PC's SATA interface pretty hard.
Hardware-based encryption is also included and keeps sensitive data scrambled in case of theft.
Not satisfied with running on the mere waft of an oily rag, the M550 packs a Sleep Mode that allows it to draw no power at all while snoozing. It also wakes up almost instantly, allowing me to pick up where I'd left without demolishing my notebook's battery life.
SSDs are often used in laptops and tablets where space and cooling capabilities are at a premium. Micron have included "Adaptive Thermal Management". This means the M550 reduces power consumption depending on system temperatures to reduce heat build-up.
Data Protection and integrity also feature. To this end the M550 also has power-loss protection and uses error recovery techniques to protect stored data. There's also RAIN technology which isn't anything to do with metrology but is fail-over protection which ensures data is as protected as much as possible.
Verdict
The M550 is available in 128GB, 256GB, 512GB and 1TB capacities. Retailing at $263.35 for the 256GB model, the M550 comes in at $1.02 per GB. Compared with a Seagate Barracuda ST500DM002 3.5" 500GB Hard Drive (which works out at approximately $0.14 per GB) the M550 looks pretty steep price-wise. On a raw performance and reliability basis, it isn't all that bad,especially for those needing ruggedness and speed.
Fast, small, shock resistant and reliable, the M550 runs silently consuming hardly any juice at all. These factors make it a quantum leap over mechanical hard drives from days gone by.
Now that my PC boots before I've even had time to think "I'll put the jug on" is nothing short of fantastic. Taken to its logical extreme, the boundaries between sluggish PCs and appliances that work as soon as they're switched on is beginning to blur. Thank goodness for that.