Information is power, but for digital-age guinea pig Chris Dancy, there's a catch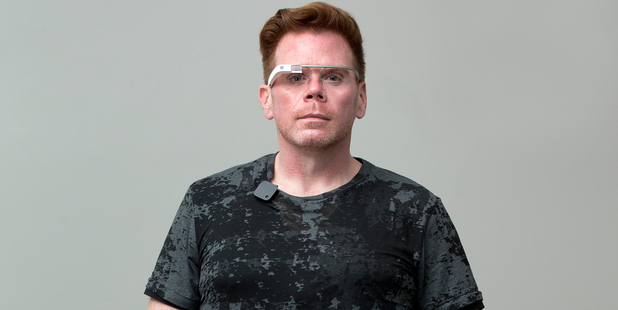 An inscription on the forecourt at the Temple of Apollo at Delphi advises the reader to "know thyself".
Long after that wisdom was chiselled into Greek rock, Chris Dancy is living and preaching the same message.
The self-styled "world's most connected man", uses about 700 systems to monitor every aspect of his existence. Sensors on his body monitor its performance whether awake or asleep. A belt around his waist tells him if his posture slumps. A camera pinned to his chest snaps off a pic every couple of seconds.
And it's not just Dancy's life that is monitored. If his dogs back home in Denver, Colorado, don't get enough exercise or break out of his yard, he'll know about it.
Yep, the dogs have sensors on them too, as does his bed, lounge and his truck. Heart rate, air temperature and pressure, sound, light, spending habits - you name it, Dancy wrangles it.
The data goes to his apps, on up to a cloud and then into a colour-coded storage system that divides his life neatly into 10 spheres. Why? Because information is power.
"There is a double-edged sword to information," Dancy said. "They say information is power but you have to be careful with it."
A former executive in a technology company, Dancy has used his personal data to turn his life around. He's lost nearly 50kg by identifying and eliminating harmful habits, and has developed an international profile to the extent companies such as Air New Zealand (which brought him to Auckland) seek his advice on how to best use information. Dancy calls his data collection system the "inner-net".
"You search your life. You use your life like a GPS. You can see how things are going at any given point in time."
All well and good. Or is it?
"I like to think about how powerful it would be if all that information was returned to us," Dancy said. "I don't like to think about what would happen if someone thought about exploiting how connected we are. As a society if we can sell it we will."
For US$1000 ($1160) an American company will plot your DNA. But they'll only let you access that information via their app, which is marketed to you based on your genetic profile. Hereditary baldness in the bloodline? We can fix that.
"There's a race between people's desire to be aware and corporations' desire to monetise," he said. "Facebook and Google are just monetising our attention. That is soft data."
Hard data is different. Manipulating it for profit would be evil. So Dancy decided to gather all of his own data and, crucially, own it. That level of self awareness doesn't come cheap. The gear costs between US$15,000-US$20,000 and needs updating every three to six months.
"So you are looking at an investment of $30,000-$40,000 a year if you just want to gadget up."
Dancy says we're all connected but don't realise it. "Most people think they are just living life," Dancy said. "They don't realise they are touching so much information."