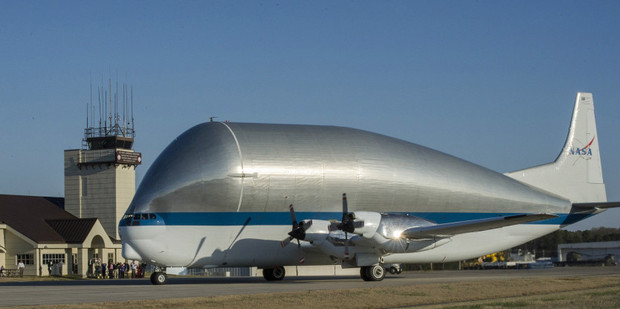 BIGGER FISH TO FLY: The equipment NASA uses tends to be big, and when they need to ship it around, your average cargo plane just isn't large or wide enough. That's why they use the Aero Spacelines Super Guppy, a blunt-nosed craft that's 43.5 metres long and 11 metres tall, with a 47.5 metre wingspan. When they need to load or unload cargo, the nose swings out of the way.
BLOW: After a shower towelling off can be a quick and efficient way to get dry, but if the towel's damp or busy growing bacteria it's not such a great idea. The Body Dryer works like a hot air hand dryer, but with some differences. Set it to blow hot or cold ionised air and then step onto it. Compressed air blows along your body in a swirly upward air column drying you off. If it makes as much noise as the usual hot air hand dryer you won't be getting away with a quiet shower.
HAIRLESS: If you've ever had your hair cut in a salon the loose hair has probably dropped all over you and the floor and then been swept away. Sometimes though medical staff need to shave hair away for a surgery and hair could cause problems in the sterile environment of an operating theatre. CareFusion's ClipVac device attaches to surgical clippers and vacuums up the hair as it's cut. It captures some 98.5% of the hair and airborne contaminants at the source, meaning little further clean-up is needed. The astronauts on the space station may find that handy too.
FLAP FOR POWER: Generating electricity from the wind generally means that spinning blades come into the picture somewhere. The DualWingGenerator uses a different approach, prompted by the shape of a bird's wing. It's a stationary system where the wind flows across a pair of opposing tilted blades. The wind lifts a blade up a shaft converting that lift into a rotary movement which is then turned into electricity. In the wind speed range between 4 and 8 metres per second, the system has a very high effectiveness level. Active controls preserve the mechanics and make efficient use of the prevailing wind forces. The system resembles the flapping of a bird's wings, but with the air moving, rather than the bird.
PATCHED IN: You may wear a wristband or chestband to monitor fitness, but such devices are a bit big and clunky, and you may forget to put them on. Engineers in the US have demonstrated a flexible skin patch that resembles a sticking plaster that could in future monitor your vital signs. The patch features a thin elastic envelope filled with fluid with chip components suspended on raised support points. That allows the patch to stretch and move without affecting the electronics. The electronic components themselves are connected via serpentine-shaped wires, folded like origami. However the patch bends, twists or stretches, the wires can unfold in any direction to match. The patch could be used for full-time health monitoring, is wirelessly powered and can send high-quality data to a computer in real time. What, no GPS?
Miraz Jordan, knowit.co.nz