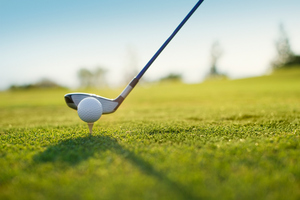 GAME ON FIRE: You may be on fire when playing golf — literally, if you use titanium clubs. Researchers at the University of California set up a test tee with embedded rocks then used a high-speed video camera to record people swinging titanium or stainless steel golf clubs. The titanium clubs created sparks. So who cares? Well, fire authorities do. The sparks are hot enough, and last long enough, to start a brush fire, as in fact they have, more than once, burning surrounding areas and injuring a firefighter. So keep those titanium clubs for areas of the course that don't have any rocks in them.
IT'S HOT INSIDE: It's a problem that the silicon-based transistors so essential to most modern electronics can't stand the heat of a nuclear reactor — somewhere around 287 C. Of course, ionising radiation is also a problem. Plasma-based transistors that use charged gases or plasma to conduct electricity at extremely high temperatures could do the job in that environment but require special high-voltage sources.
Researchers at the University of Utah have created plasma transistors that are 500 times smaller than current microplasma devices, and operate at one sixth the voltage. What's more they work at temperatures up to 787 C. The devices use helium as a plasma source. Because they're so tiny these plasma-based transistors could perhaps eventually find their way into smartphones, generating X-rays for emergency medical use.
LISTEN CLOSELY: Malaysia Airlines Flight 370 could be lying 7 Km deep in the South Indian Sea, but searchers still aim to find the flight data recorder. To look for it they tow a hydrodynamic microphone slowly behind a ship and listen for a telltale ping of an underwater locator beacon. The microphone itself is tethered to the ship by 6 Km of cable, staying about 300 metres above the sea floor. It can detect a transponder signal within a 3 Km radius, and covers nearly 400 square Km of ocean per day. Even if they find where the recorders are it'll still be a massive job to recover them.
SHOOTING HIGH: Panasonic's HX-A500 is a wearable camera that can shoot 4K video at 25 frames per second. The body of the camera has controls and a 3.8 cm display for previewing video, but the lens is separate and connected by a cable. The whole camera is dustproof and waterproof, and images can be streamed via WiFi or NFC to a smartphone app that can record, edit, and broadcast live to UStream. Separating the lens from the camera body is an interesting approach.
THINK BIG, THINK HIGH: There aren't any clouds in orbit, so the US Navy has an idea to use large arrays of space solar modules to capture solar power and beam energy down to the surface. A module orbiting Earth could capture sunlight with a solar panel. Below the panel are the electronics to convert the energy to a radio frequency that an antenna then transmits to a receiving station. Another design is more open and allows heat to radiate more efficiently, so the module can receive greater concentrations of sunlight without overheating. The system could use modules sent separately to space and then assembled by robots into an array 9 times as long as the International Space Station. Space robots, ahhh.
Miraz Jordan, knowit.co.nz