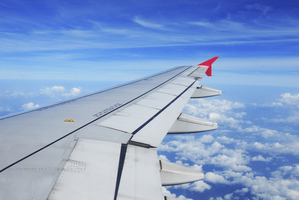 FLYING SCREENS: Just say you were buying a new supersonic jet, but you'd like the plane to be sleek, highly aerodynamic and not too heavy. The Spike S-512 Supersonic Jet may be the plane for you, with no windows in the cabin. Instead the jet has thin display screens embedded into the interior walls. Cameras around the craft will display panoramic images on the screens. Not having windows reduces drag on the hull and also changes the structural support requirements, ultimately reducing the weight of the plane. Passengers will have some control over how bright the screen is and what it displays. It's all good till the software glitch hits.
BONE SPY: People with a type of cancer called myeloma may need painful bone marrow biopsies and blood tests so their doctor can assess how far the disease has spread and how well treatment is working. These techniques don't show where the cancer is present in the bones though. In future a painless MRI scan may be used instead. The new whole-body, diffusion-weighted MRI scans pinpoint exactly where the cancer is in the bones — with an accuracy of around 86%.
The new scan obtains information from all the bones in the entire body for myeloma in one go without having to rely on individual bone X-rays, showing immediately where the cancer is and how severe it is. Quick, painless and accurate: what a bonus.
BIG PICTURE: The BigRep 3D printer has a printing volume of more than one cubic metre, meaning it can print full size objects, such as designer furniture. The printer supports numerous printing materials, such as PLA, ABS, HDPE, Nylon, Laywood and Laybrick and could be used for architectural purposes, artistic works or engineering parts. It could be handy to print a few extra chairs now and then.
BigRep ONE Timeplapse from BigRep Fullscale 3D Printer on Vimeo.
A PERSONAL SPEED: If you've ever been frustrated by a slow cellphone signal then the pCell system being developed in the US will interest you. It claims to create a signal that's about 1,000 times faster than you currently get. Unfortunately it needs the carriers to install new towers so may not come into use very quickly. Current systems create a cell of wireless signal around each tower and all users share that signal. The new system creates a tiny bubble of signal around the phone itself and allows the same bandwidth, but without needing to share it. The new cell towers work together to focus signal on each phone which is constantly sending out its own wireless signals. It sounds to me like a speedy way to drain the phone's battery.
LIGHT DUTIES: Those working with wearable sensors and in robotics need materials that can not just bend, but stretch yet still carry light. Belgian researchers believe they now have a product that can do that. Using a rubbery transparent material called PDMS they created links with a vertical-cavity surface-emitting laser light source at one end and a photodiode sensor at the other. Light is trapped in a transparent core surrounded by lower refractive index material. Bending and stretching the materials still allowed light to travel through them. The team aim next to make all the components much smaller. Go on, tie it in a knot and send light through.
Miraz Jordan, http://knowit.co.nz