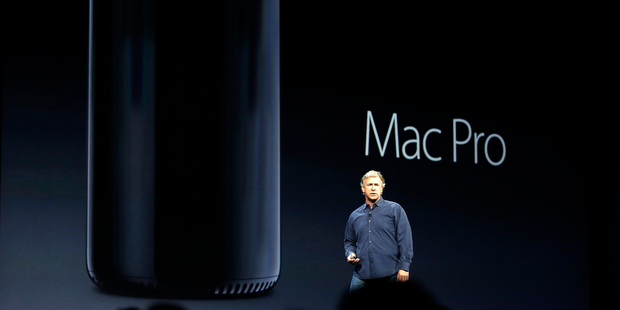 I have had the Mac Pro for a couple of weeks now and it keeps delivering little pleasures. The thin white rims around the port groups, for example, all light up brightly when you first turn it on, but after a while they turn off so as not to be distracting. The power cord and plug for this unit is black (white, as is normal for Macs, wouldn't do) but the plug is curved ever so slightly to fit the curve of the Mac Pro's body, to sit flush.
Borderlands 2 on my 2012 Retina MacBook pro (2.6GHz i7) makes the fans spin up, and stay spinning quite loudly, the whole time I play. It's a bit frustrating because some levels, if you quit out, need starting over from scratch next time you try it, but I don't like my laptop staying on for hours at full stretch so I can come back to the game and pick up where I left off. Quitting gets the fans back to normal in a minute or so. The MacBook Pro has 16GB RAM and 1GB video card, but it doesn't seem to make any difference what I change in settings, especially video-wise. Those fans work-out. Not on the Mac Pro - but of course, I would have been very surprised if it did.
I like asking people what they think of it. My mother in law got quite excited - but that's because she thought it was a champagne bucket. My brother in law, who designs and builds high-end cabinetry (but isn't exactly computer-savvy - he still uses a 7-year old white plastic MacBook), said 'Wow, that's beautiful. What is it?' Those who do know what it is are surprised how small it is.
So how fast is it, actually? On my Geekbench test, the Mac Pro had a single-core score of 3590. That's more than the 2-core (multicore) score of a 2007 MacBook Pro (2.2GHz Core 2 Duo with 4GB RAM), which was 3122. Of course, each core of the new Mac Pro is running at 3GHz, and it's a much advanced version of the core too: an Intel Xeon E5-1680 v2, with one Processor, eight Cores, and 16 Threads. Multicore, the score is a blistering 25,865. The caches on this thing obviously serve a purpose - some are small but there's loads of them: L1 Instruction Cache 32Kb (but there are eight of them), and same with the L1 Data Cache. L2 Cache is 245Kb (also x8) but the L3 cache is a rather staggering 25MB. The latest Haswell-chipped MacBook Pro has 6MB of L3, as does the Haswell i5 iMac I looked at last year. (The new Mac Pro I have for testing has 32GB RAM.)
Before the Mac Pro actually shipped, someone Geekbenched a prototype and posted the figures: 23,901. The model I have to salivate evaluate beat that, so I guess Apple tweaked a few things before release, or a little software update let a bottleneck free-up, or something.
The main reason the new Mac Pro seems so fast is the two AMD FirePro GPUs. They deliver up to eight times the graphical performance of the previous-generation Mac Pros, but they also help out the CPU when needed ... but as many have noted, the aluminium tower Mac Pro video cards were well out-of-date by the time Apple stopped selling it.
Critics don't like the fact there's not much you can do once you slide the sleek, shiny, sinister-looking case off. The old Mac Pro had a highly user-welcoming interior space, full of slots. On the new one, all your connectivity is external - but what connectivity! There are six Thunderbolt 2 ports, which combine the two 10GBs channels of Thunderbolt (1) into into a single 20Gbs bi-directional channel. This is ideal for streaming large amounts of data, including 4K video. Thunderbolt 2 can theoretically display 4K video (x3) while simultaneously transferring it at that unified 20 Gbit/s throughput rate. Since up to six Thunderbolt peripherals can be daisy-chained to each port, the Mac Pro can actually support up to 36 Thunderbolt devices ... all at once. Once the pros get their heads around this (and the ensuing potential for desk clutter and cable mayhem) this will be a boon.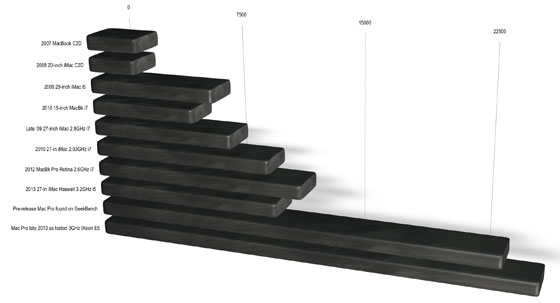 That said, more tech-savvy reviewers have noticed that some of the internal components are actually swappable. So it's conceivable Apple could release Mac Pro upgrade kits in future, meaning you might be able to keep your investment up-to-date.
What I still need to do is finish some tests in Final Cut, but meanwhile, this is what other have been saying (assuming you've already read Macworld/TUAW/Apple Insider etc): "It's a masterpiece of engineering and suitably expensive. Fresh ideas such as the unified thermal core and backlit expansion ports together with high-performance components combine to make the Mac Pro the ultimate high-end workhorse." That was TechRadar, not a Mac specific site, and which gives examples of PCs in the same league.
TechCrunch wrote "... the true power lies under the hood, and what's contained therein will satisfy even the most pressing need for speed." (This review includes a video.)
The English site IT Pro says "Yes it's expensive - but after testing we feel the Mac Pro is worth it if you will utilise it to its full potential. Workstations have never looked so good and you get performance, upgradeability and portability as well." Again, not an Apple-centric site.
And Engadget is also no Apple fan site. "It's hard to say if the Mac Pro is pricey, per se, given that there's nothing else quite like it. There are plenty of Windows-based workstations, certainly, but none are quite this small or quite this portable (many aren't quite this quiet, either)."
The Verge used several testers trying several different things out on the Mac Pro. Regina Dellea noted it wasn't that quick in Adobe apps (including Premiere) since Adobe hasn't optimised it for the new Mac Pro the way Apple (of course) got to with Final Cut Pro X. But hopefully that's on the cards for Adobe products - because pros are buying these, and pros use a lot of Adobe, one way or another. All in all, the Verge's review was the most critical (8.5 out of 10) but it's a good look from several user viewpoints. It (in part) concludes: "The new Mac Pro is an undeniably serious and powerful machine aimed at professionals. But it's also incredibly expensive, and at least from my Adobe-centric perspective, it's not quite worth the outlay right now. The day-to-day performance is similar enough to that of the iMac that I'd have a difficult time convincing my boss to spend double the money on this computer, plus a monitor, plus the Thunderbolt peripherals I'd need to make it a viable solution - at least, not until Adobe makes its suite shine on the new hardware the way Final Cut Pro X does. At the end of the day, I'm back to hoping, but this time that third-party developers step up."