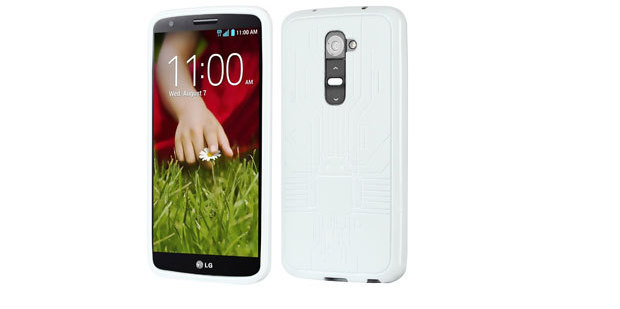 There's a lot to like with LG's latest smartphone the G2. It's a pretty high end piece of hardware and virtually everything about it shines - from its large screen through to its muscular spec (which is also said to be similar to that of the Nexus 5 - also built by LG).
Look and feel
No matter who says, size definitely matters, especially when it comes to smartphones, and the G2 is no exception - its roomy 5.2" screen is a real thumb stretcher.
Even though the G2's screen seems large enough to comfortably hide several Amazonian hill tribes, the G2 itself doesn't feel too big, it's light and thin enough to slip into a pocket without giving people the impression that you're REALLY pleased to see them ("hey is that a smartphone in your pocket or are you pleased to see me?").
The G2 may look large alongside an iPhone, but a lot of this comes down to some clever design. An ultra-thin bezel and lack of front buttons means that there's plenty of screen real-estate, yet the G2 remains useable with just one hand.
If the G2 was a car, it'd be a top-end Toyota. It's incredibly reliable, solidly engineered, but it doesn't have the same design cachet as the HTC One in which using the same analogy would be the automotive equal of an Aston Martin. This isn't to say that the G2 isn't an innovative device, and it is still pretty easy on the eyes too, it's just that LG have focussed their attentions under the G2's hood rather than on cosmetics and design.
The G2 is sealed unit and this allowed LG to shape the battery to fit the G2's case. This is probably why even though the G2 sports a respectable 3,000mAh battery it still doesn't weigh like a brick. The G2's case is also fashioned out of glossy plastic instead of glass or alloy. Although it felt solid, I did notice some creaking sounds if gripping it tightly.
Features and other flashy bits
The most talked about design feature of the G2 however is its rear-mounted volume and power buttons. They're just where fingers usually tend to be when in a call. According to LG's marketing bumpf this means tweaking the volume while in a call is easier and you're also far less likely to drop the G2. In use I'm inclined to agree, although it initially took some getting used to.
This said, once I'd figured out what the rear buttons did, using them quickly became second nature. Most conveniently of all, the rear buttons also meant that the G2's sides were uncluttered so I didn't accidentally switch it on when pocketing it to accidentally dialling some unfortunate stranger, treating them to an impromptu mystery audio show.
Another unique feature of the G2 is what LG have called double tap. When it is in standby, tapping its screen twice rapidly turns it on, repeat and it'll go back to standby. It might sound like a nice but not vital feature, but in use it quickly became incredibly useful.
As you'd expect from one of the world's biggest LCD panel manufacturers, The G2's IPS+ screen is bright enough to give you a tan and also to crank out vivid yet accurate colours. A resolution of 1,920x1,080 plus a pixel density of 424ppi also made for pretty crispy images. There was no hint of pixels until I looked really closely. Being LCD rather than Super AMOLED, I did however notice that dark areas tended to be charcoal rather than midnight black, but unlike AMOLED the display didn't sport over-saturated and blown out primary colours, and skin tones looked fairly natural too.
The G2 also sports some serious silicon under its hood. Lurking inside it is a Qualcomm Snapdragon 800 CPU, which is a quad-core 2.26GHz beastie. In use this translated into blisteringly fast boot times and no slow-downs. Even with several apps in the background, and a demanding app in the foreground, the G2 ran hiccup and stutter free.

The G2 I reviewed was powered by Android 4.2.2 and, as with other LG Android smartphones, LG's custom interface tweakery was kept to a reasonable minimum, not altering the appearance of Android too drastically.
LG also seems to have followed Samsung in using the G2's front-facing camera to detect if you're looking at the display to play or pause video.
On the connectivity front, the G2 wasn't left wanting either. LG have included 4G LTE, Bluetooth 4.0, dual-band Wi-Fi a/b/g/n/ac and NFC. About the only thing missing on the connectivity front was a kitchen sink.
Shutter bugs will also be impressed with the G2's 13 megapixel rear camera which has an LED flash and optical image stabilisation. In use it captured some pretty impressive images, even under challenging shooting conditions. Also featured is a host of different shooting modes including HDR which made good use of the G2's CPU power to process captured images almost instantly.
I was also impressed at the G2's video capture capabilities which shot decent 1080p video, thanks to responsive focus tracking and in-built image stabilisation.
In Use
Like any portable computing hardware, a smartphone will always be an exercise in compromise. Beefy silicon might make for a zippy device, but it also exacts a penalty on battery life. Big batteries however also impact portability.
LG talked up their Li-Po 3,000mAh battery, and it appears that the hype actually lives up to reality. The choice of a lithium polymer battery appears to be a good one. Unlike lithium-ion cells (which typically have a rigid metal case), Li-Po batteries typically have the electrode and separator sheets laminated onto each other with no metal casing used.
In practice this translates into Li-Po batteries being significantly lighter than their lithium ion counterparts and given the chunky size of the G2's battery, this doubtlessly equates to significant weight savings.
Even after a day of heavy use (many emails, copious tweets, a metric tonne of surfing, lots of phone calls, and the shooting of a dozen plus photos and videos), the G2 still had juice in its tank, reporting a generous 20% charge when I got home that night.
About the only really downside with the G2 I was able to uncover in my all too brief hands on was its lack of a micro SD card slot.

If you're a media magpie who also shoots a shed-load of photos/videos you may be better off checking out the 32GB version. While I took advantage of the G2's 802.11ac Wi-Fi capabilities to quickly back up photos and transfer music using Google Drive, and Dropbox, things could quickly get very expensive indeed over 4G.
Verdict
You'd be right to assume that I am smitten with the G2, I am, it is one hell of a phone. Not only is it blindingly fast with grunt to spare, but it also sports a gorgeous and roomy screen, plus a battery that simply refuses to quit. If you're a mobile power user, a gamer, or like multimedia, check out the G2, it is pretty hard to go beat.
Tech Spec
RRP: $999 (prices will vary depending on carrier and calling plans)
Connectivity: (2G) GSM 850/900/1800/1900Mhz,(3G) HSDPA 850/900/1900/2100Mhz (4G) 900/1800/2100/2600/850Mhz
Wi-Fi: 802.11 a/b/g/n/ac, dual-band, Bluetooth v4.0, NFC, Infrared
SIM: Micro-SIM
Dimensions: 138.5 x 70.9 x 8.9 mm, 143 g
Display: IPS + LCD (1080 x 1920 pixels, 5.2" 424 ppi)
Storage/RAM: 16/32 GB, 2 GB RAM
USB: 1x micro-USB v2.0
Camera: (Rear) 13 MP, optical image stabilisation, LED flash, 1080p@60fps, HDR, (Front) 2.1 MP, 1080p@30fps
OS: Android OS, v4.2.2 (Jelly Bean)
Chipset: Qualcomm MSM8974 Snapdragon 800
CPU: Quad-core 2.26 GHz Krait 400
GPU: Adreno 330
Battery: (Non-removable) Li-Po 3,000 mAh