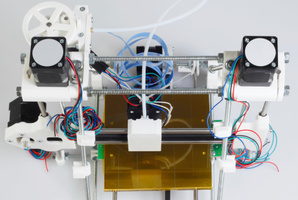 A NEW FACE OF PRINTING: It was a bad motorbike accident that cost one rider one side of his face. Now Welsh surgeons are using 3D printing to help rebuild it. The facial reconstruction will use titanium guides and implants modeled from a CT scan of the unaffected side of his face. The scan allowed maxillofacial surgeons to design guides and implants which are then created by specialist 3D printing facilities in Belgium using medical grade titanium.
TOSS AND CAPTURE: Toss the softball sized Panono in the air and as it reaches the peak of its flight the 36 cameras it carries trigger to capture a panoramic fully spherical 72 megapixel image. Rather than being thrown in the air the Panono can be supported on a stick or be handheld and triggered with a shutter release. The images are sent to a tablet or smartphone via Bluetooth.
To view the image on a tablet move the tablet around to see the full view, or view the image online. The Panono is rugged enough to stand being dropped a few times if you fail to catch it. That sounds fun for barbecues and other outdoor events.
FLOATING A GOOD IDEA: 20 Km off the coast of Fukushima in Japan a new wind power project has started generating electricity. A 2 megawatt floating turbine and a floating substation form the start of a project that may eventually expand to generate 1,000 megawatts. The first turbine and substation will be studied and analysed before any decisions are made to go ahead with a commercial project. Good luck, and may the seas be calm.
UNIVERSAL CHARGER: Engineers at Duke University can pull microwave signals out of the air and turn them into direct current voltage to recharge a cellphone or other small electronic device. Like solar panels that turn light into energy their device harvests microwaves. Fibreglass and copper energy conductors wired together on a circuit board provide more energy than a typical USB charger. The device is around 37% energy efficient and could be useful in remote locations where there's a cellphone signal or satellites passing overhead to power a network of sensors for data collection. Those microwaves are everywhere.
THE ROAD IN FOCUS: The Attention Powered Car is a special test car in Western Australia that only runs full-speed-ahead when you're paying total attention. Lose focus and the car slows and even stops until you pay attention to your driving again. While underway on a test track the driver wears a headset with 14 EGS sensors that measure the overall activity in the brain. In tests the researchers could even tell when a driver was about to lose focus. While never intended as a system to be used in real-life driving, the research could lead to devices in cars to help alert drivers who are distracted. Even the test system could be a valuable part of driving training, or perhaps refresher training.
Miraz Jordan, knowit.co.nz