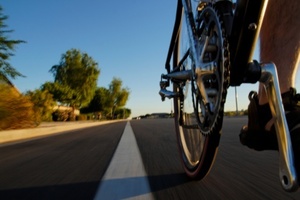 IN THE HOUSE: The Camper Bike is one of a kind unfortunately. It starts with a modified 3-wheeler bike frame designed for carrying cargo, with the seat and pedals about half way along. In the cargo area is a tiny camper with space for sleeping and storage. The cab extends above the rider's head. It's a bit like a snail really: you carry your house with you, and must be a slow way to travel. Inhabitat.
DUCK DETACH AND COVER: So, you're sitting at your desk in a fairly ordinary looking plastic chair when an earthquake strikes. The Mamoris chair has you covered — literally. Flip the chair over, detach the backrest and its attached helmet section and use it to keep your head and shoulders safe from falling debris. Easy.
BETTER THAN A BOX: Terminal 3 at Shenzhen's Bao'an airport in China isn't your normal grey concrete box.
The facade is made of metal panels and glass panels of different sizes in a honeycomb motif that can be partially opened. The skin allows natural light to filter in. The interior combines the ideas of movement and pause with arching ceilings and rounded shapes, while the layout of the building slightly resembles a plane. That should all add interest to the long waits.
WET WELD: If you need to weld something it can be a costly and dangerous business. Gases like acetylene and propane, used in conventional welding, have to be stored, transported and even insured. The high temperatures involved cause their own problems too. A research team in Europe has come up with a safer alternative: water. Their welder adds electricity to water, creating hydrogen and oxygen gases through electrolysis and using a cheaper membrane than other similar processes. The hydrogen and oxygen are then recombined at the very tip of the torch, creating a flame that's cooler and much easier to handle than commonly-used mixtures of oxygen with propane or acetylene. The flame is gentle and clean and produces only water as a by-product.
STICK WITH IT: And if welding is all too much FiberFix tape claims to be 100 times stronger than duct tape. Drop the roll of tape into a bucket of water then remove excess water. Wrap the tape tightly over the break and 10 minutes later it's hardened like steel. The tape contains an epoxy resin that sticks to almost any surface and is very difficult to remove again, but it can be sanded and painted over. In the wrong hands, like superglue, that could be quite a problem.
Miraz Jordan, knowit.co.nz