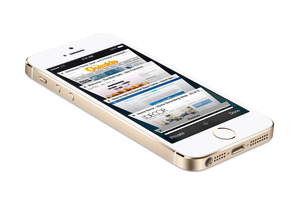 Having legitimised the smartphone category, Apple has upped the ante with the newly launched 5s, which features muscular specs under its hood.
After the launch, Apple copped a fair amount of flack because the iPhone 5s didn't represent much of a design departure from the original iPhone 5. Critics were quick to point out that unlike other manufacturers, the screen wasn't any bigger, and there had been little change in terms of design. While I do agree that the design hasn't evolved hugely with the 5s, a whole lot has happened on its inside.
Speccy Stuff
This isn't terribly surprising as anyone whose followed Apple's upgrade cycles will point out that mid cycle iPhone "S" updates are always about small (but important details), usually a faster CPU, camera improvements etc. This time however, Apple went thermonuclear and the seemingly unimportant spec sheet stuff suddenly became bigger than Ben Hur.
For a start the iPhone 5s sports a 64-bit A7 CPU, a hidden fingerprint reader, significant hardware and software improvements to its camera (including a rather clever flash).
In short, Apple has entered the smartphone specifications arms race with a sizeable splash via the iPhone 5s.
Look and Feel
While I would love to see at least a 5" screen, the default 4" feels small next to the current crop of Android and Windows mobile devices, the basic design of the 5s is pretty hard to fault. Like the iPhone 5, the 5s sports an alloy back and frame. It feels great in the hand and is arguably a design classic. About the only other phone to rival this is the HTC One.
Even though the 5s only sports a 4" display, the quality of its screen has to be seen to be believed. Apple kicked off the pixel per inch spec-fest with retina, and has continued with the 5s. Although the 5s display is now outpaced 1080p resolutions found on other flagship phones, it is hard to beat its screen for sheer colour accuracy, contrast and viewing angles.
The review model I tested was what Apple have branded silver, additionally there is a "space gray" version which is essentially a rebranding of black and then there's the gold model, which is Apple marketing speak for a champagne-accented device with white. These gold phones are still as rare as hen's teeth.
In Use
Perhaps the most visible (yet tastefully subtle) design cue to fact that you're got the 5s in your hands is its home button. For a start there is no square icon in its centre and it sports an alloy ring around its outside.
In use the home button's double duty function as a Touch ID fingerprint security system seems very 007, but is also extremely handy. With an existing iPhone 5, getting started means whipping it out of your pocket, hitting the home button and then mucking about with entering a pin before you have a usable phone. Not so with the 5s. Simply touch the ringed home button, your dabs are scanned and you're in with no mucking about, it's both secure-ish and quick (you can also use the finger print scanner to buy apps and media in the Apple app store without faffing about with a password). Getting set up so you can perform this secret agent act requires you to register your fingers on the home button. The 5s can register up to five prints.
The registration process takes a small amount of time but this is a good investment considering the sheer amount of time saved in the future. All told I found the fingerprint scanner to be pretty reliable, and about the only time it struggled was after I'd just finished washing dishes and had damp hands. After several failed attempts, I was prompted for my old school four-digit login PIN.
According to Apple, registered fingerprints are stored in encrypted memory on the actual phone, meaning that your biometric data is still yours and not being snooped upon by the NSA. Either way I'm curious to see what future updates Apple brings to the table with their fingerprint scanning tech, the possibilities are endless (forefinger and thumb speed dials anyone?).
Given the lack of obvious cosmetic design changes to the 5s, Apple has put quite a bit of effort into the 5s specs. The new A7 processor is feels pretty darned quick. Apple says that there is more than a 50% improvement over the processing grunt of the original iPhone 3G. The GPU baked into the 5s also appears to have a large dose of silicon steroids as games looked fantastic, with 5s optimised games incorporating graphics effects that I'd only previously seen on a high end console or well-appointed PC. In use everything was zippy and quick. Even the eye candy baked into iOS7 seemed to run smoother.
In addition to a faster CPU and significantly improved GPU, the M7 "motion coprocessor" has a huge amount of potential for some clever app designs. Built from the ground up to monitor the 5s accelerometer, gyroscope, compass, and other sensors without trashing the battery, it leaves the door wide open for future developments such as accessing Siri using a voice command (ala Motorola X) even if the phone is in standby. Already the M7 can intelligently evaluate the white balance of light hitting the 5s rear image sensor and work out the optimal colour temperature for the flash. The possibilities are tantalising.
Speaking of the 5s camera, its new image sensor with larger elements means it takes great pictures. Photos were sharper and more detailed under optimal shooting conditions, but the real improvements came into their own when shooting at night or under low light conditions, the 5s managed to consistently shoot usable pics with minimal blur and noise. I also liked that I could apply filters to photos and later change them without trashing the original photo. Having seamless access to my phones photos via iCloud on my PC was also really useful.
The killer camera feature I kept coming back to again and again was slow motion. Being able to shoot mythbuster-like HD video in slow-mo complete with audio had frequent comedy value and was kind of cool. Even though there probably isn't a huge amount of real world uses for us non-mythbusters, it is a lot of fun.
While 3G call quality was also pretty reasonable, using FaceTime audio (which required I track down iPhone toting friends and family), was virtually hi-fi and often eerily felt like the person was standing next to me rather than being a disembodied voice on the phone. Multiband LTE support should also provide 4G access when roaming (even though doing so is likely to cost a bomb).
I was curious given how much more was happening under the hood to see how the 5s fared with battery life. Impressively it lasted a full day and part of an evening before demanding quality time with the charger. Not bad but not quite as impressive as the 5s whose bigger battery seems to last just that little bit longer.
Verdict - The Bionic Phone?
The most ingenious thing Apple have done with the 5s was to fundamentally change it from within while outwardly changing very little. It's faster, better and brighter, and a tad smarter too. But as you'd expect from Apple they've looked at the user experience and decided to make it better without a massive learning curve. Using the new features of the iPhone 5s is largely intuitive for an existing iPhone 5 user, they just happen which might be unexciting but it does make the 5s feel more capable. In short Apple have pulled off the extremely tricky balancing act of adding something new without alienating users and keeping things to same-same and boring them to death.
Tech Specs
RRP$ (Prices will vary depending on carrier and calling plan)
16GB $1,049
32GB $1,199
64GB NZ$1,349
Dimensions: Height x Width x Depth: 123.8 x 58.6 x 7.6 mm
Weight: 112 g
CPU: A7 chip (64-bit) , M7 motion coprocessor
Connectivity: 3G/HSPA+/DC-HSDPA (850, 900, 1700/2100, 1900, 2100 MHz); GSM/EDGE (850, 900, 1800, 1900 MHz); LTE (Bands 1, 2, 3, 4, 5, 8, 13, 17, 19, 20, 25)
802.11a/b/g/n Wi-Fi (802.11n 2.4GHz and 5GHz)
Bluetooth 4.0
A-GPS and GLONASS
Display: 4" Retina display (1136-by-640 at 326 ppi), 800:1 contrast ratio, 500 cd/m² max brightness
Camera: (Rear facing) 8 megapixel, ƒ/2.2 aperture, 1080p HD video recording, 30 fps Slow-motion video
Camera: (Front facing) 1.2-megapixel, 720p HD video recording