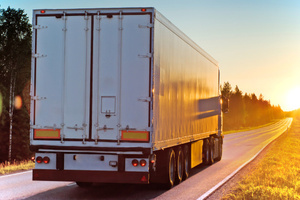 OUT OF THE ROAD: Driving behind a big truck is a pain, at least in part because you can't see what's ahead of the truck. Mount a camera in that truck though and perhaps you could send a video feed to a car behind. A team at the University of Porto in Portugal developed a See-Through System that does just that. A heads-up display on the trailing vehicle recognises the back of the lead vehicle, and replaces it with a video feed from a webcam mounted on that lead vehicle.
Unfortunately, a 200 millisecond delay means oncoming traffic is shown as being further away than it really is — how much further depends on how fast everyone is travelling. That delay could be a killer.
MUSCLE TRUCK: If you like your vehicles grunty and Romanian then the Rescue may catch your eye. It fords and even swims through rivers, rides through snow and over rough terrain and can handle almost anything.
The vehicle can carry water tanks and pumps for firefighting, use tracks on the rear wheels, carry cargo on top or in a trailer, and attach a snow plow on the front. It can also carry up to eleven people. Several configurations are available, including some more sporty versions for activities like firefighting command and control. That's one truck that's not messing around.
EYES IN THE BACK OF THE HEAD: The Skully P-1 motorcycle helmet includes an integrated heads-up display with GPS maps. It also has a rear-view camera with a 180 degree viewing angle that displays video in one corner of the HUD. After pairing a smartphone with the helmet you can control it by voice: select music, make calls, send texts and change destination. Just make sure you know your front from your back.
FEET FIRST: When we walk our ankles handle a lot of motion, allowing the foot to tilt and twist to cope with uneven or rough terrain.
Artificial feet currently available though are likely to be controlled by a microprocessor that allows only for an up and down motion. Now researchers have created an artificial ankle that comes close to achieving the innate range of motion of a human ankle. It moves the foot side to side as well as up and down. Pressure sensors on the bottom of the foot detect how the amputee is walking. The microprocessor then signals cables to move the foot as needed: in almost any direction. The improvement should not only make walking easier for those with prosthetic feet but also reduce how often they fall. Bodies really are very clever things that are surprisingly hard to emulate.
A LITTLE BLUE: Silicon cells are a popular way to capture solar power.
Silicon is plentiful, but it takes a lot of energy to process it into solar cells, and silver is needed for conductors. Efficiency is comparatively low and costs fairly high. Researchers at UW-Madison are working on a cheaper, simpler system that uses a dye called copper phthalocyanine. The dye could even be laid down on a paper base, rather than the glass in current cells. Since organic dyes absorb so much light they need only be laid down in a very thin layer. The team say their research may soon lead to cheap, light and efficient solar cells that can be used by consumers for applications such as charging phones and running small household appliances. Solar cell tattoos could be interesting. U
Miraz Jordan, knowit.co.nz