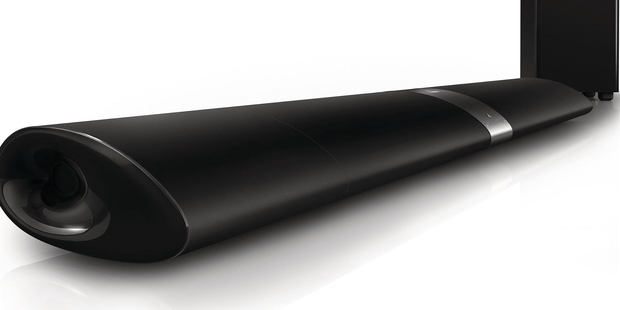 Home cinema is one of those concepts that sounds really appealing right up until that moment when you're thumbing through an incomprehensible manual and getting tangled up in cable spaghetti. Then there's disgruntled spouses ("get those speaker wires off my floor!") and a remote that demands a PHD in advanced rocketry before you can watch a movie in its full surround sound glory just like in the cinema.
A Philips engineer must've experienced this one time too many as they've launched a home theatre sound bar setup that comes about as close as I've ever seen to delivering pain free home theatre audio as I've ever seen.
Philips' have called it the Fidelio HTL9100, and it is a metre long sound-bar that can be plunked underneath the telly to crank out stereo or the usual faux surround audio. If you're yawning so far, hang in there, because things get a whole lot cleverer as the HTL9100 also has wireless detachable rear surround speakers and a wireless sub-woofer.
When not in use or just for casual TV watching, the wireless rear speakers clip onto to the soundbar which charges in-built batteries.
For a movie night, disconnect the rear speakers off the sound bar and they'll wirelessly to become rear-surround speakers. When you've finished the movie simply reconnect them back onto the sound bar. Its clever, simple and elegant. Best of all there's not a wire in sight.
The detachable surround speakers built-in battery will dish out around 10 hours of audio - and there's also a sub woofer for adding acres of Oonst to in-movie explosions and other bass heavy audio.
Like the surround speakers, the sub is wireless and connected wirelessly to the HTL9100 automatically which made for an incredibly easy setup. The sub must however be powered, so proximity to a mains socket is a must (This said, being a sub it bangs out non directional low frequency audio so its location isn't really a biggie as long as it is in the same room).
The main sound-bar which does double duty as the centre speaker has two 1-inch tweeters and two 2.5-inch mid-range drivers. The wireless surround speakers and sub use a proprietary 5.8MHz wireless link to deliver uncompressed audio, and played nice with the Wifi network, cordless phones and other wireless gadgets scattered around my home.
Another nice feature Philips baked into the HTL9100 was Bluetooth audio streaming. Which let me crank out some tunage from a Bluetooth paired iPod and iPhone.
The other feature that also proved surprisingly useful was the HTL9100's ability to act as an HDMI switcher. This meant I was able to share the one remaining HDMI input on my telly between my PS3 and MySky box. If you've yet to experience the joys of running out of spare HDMI inputs, don't worry as the HTL9100 also sports both RCA and optical and coaxial SPDIF inputs.
In addition to the mock surround mode for use when operating in its soundbar configuration, the HTL9100 can also work with the Dolby Digital and DTS surround audio formats on most DVDs and Blu-Ray movies.
Getting set up was so idiot proof that even I managed it without so much a glance at the manual. Once set up, converting the HTL9100 into a full blown surround setup was as easy as disconnecting the rear speakers from the sound bar and plonking them behind me at roughly head height. There's a notification LED on each speaker that tells you when the speaker is connected, running out of battery charge.
Similarly the small downward firing sub was also plug and play. Plunking into an out of the way spot and powering it up saw it automatically connect. No sweat - total install time was under 10 minutes.
Full on 5.1 surround really delivered the goods when it came to movies. Bullets flew around the room in Saving Private Ryan and tie fighters were behind, in front and beside us when watching Star Wars. Interestingly the HTL9100 also managed to lift a surprising amount of detail out of movies and TV shows. Birds singing, phones ringing or even ambient café or elevator noise all managed to grab my attention.
The HTL9100's sub was also surprisingly good considering its petite size. Its Bass was surprisingly rich, yet tightly controlled with very little boom or waffle. Cranking the HTL9100 up revealed little in the way of distortion, and unusually for a soundbar, it also possessed a surprising amount of musicality so it wasn't just for movie watching.
Verdict
If you're looking for that all too rare combination of simplicity and flexibility when it comes to home theatre and don't have a lot of space to play with, The HTL9100 is pretty hard to ignore. Where most soundbars tend to deliver thin and reedy one dimensional audio, the HTL9100 managed lively but balanced and richly detailed audio that was nicely fattened out by the wireless sub. Better still, the HTL9100 was a breeze to set up, and its ability to deliver 5.1 surround audio with virtually no cable clutter makes it a very desirable bit of gear indeed.
Tech Specs
RRP$1099
Surround formats: Dolby Digital, DTS Digital Surround
Output power: 120watts
Subwoofer output power: 90watts
Surround speaker drivers: 1 x 2.5" Full range woofer
Surround Speaker Impedance: 8ohm
Subwoofer driver: 1 x 6.5" woofer
Subwoofer dynamic range: 20hz-150Hz
Subwoofer impedance: 4ohm
Integrated Connections: Bluetooth, 3.5mm Audio In
Rear Connections: AUX in, Digital coaxial in, Digital optical in, HDMI 1.4 output (ARC), HDMI x2
Dimensions Centre/surround Speakers: W x H x D): 1035 x 70 x 156mm
Weight: 4kg
Subwoofer (W x H x D): 200 x 200 x 510mm
Subwoofer Weight: 5kg