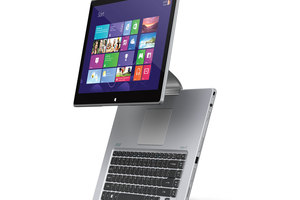 One of my pet peeves are websites where a web designer has had one pinot too many and decided to use 4-point screwyou font. Leaning into my laptops screen I find myself squinting in a desperate bid to read the websites miniscule text. With most PCs the best solution so far has involved copious amounts of CTRL+ to zoom up the screen.
Not so with Acers latest creation, the R7. Instead of enlarging text or hiring an electron microscope, I merely pull R7's the screen closer to me it works surprisingly well. Being a touch-screen widget also means I can pinch to zoom.
Look at feel
The first impression I had upon unboxing the R7 was that it was one serious beast of a machine. For one thing, It has no aspirations of Ultrabookness - it definitely isn't small. For those wanting a decent dollop of on-screen real estate however, the R7's generous 15.6" screen is definitely the bee's knees.
The other thing I noticed as I man-handled it, was that it felt incredibly solid, to the point where I began to wonder if it was actually an Acer product.
The R7's metal and plastic chassis has minimal flex and seems to be built pretty much like a brick-you-know-what house.
Looks-wise the R7 has a distinctly Macbook look to it. From its alloy upper, dark Chiclet keyboard and black screen bezel, it looks pretty good. There are a few quirks, but these actually made a surprising amount of sense when testing the R7 out.
The Hinge
Perhaps the most noticeably different thing about the R7 from the rest of the pack is its use of a hinge. Who'd have thought a something you'd buy from mitre 10 to hold a door in place could be such a cool piece of technology? The pivot hinge on the R7 allows you to configure the R7 in a multitude different ways that greatly extends its versatility beyond that of a traditional notebook PC.
First and foremost there's what the blurb calls Notebook mode, where the screen opens up much like that of a conventional notebook PC and the R7 is can be used like a normal laptop. Then there's Display mode, where the screen is flipped over 180 degrees to face outwards - it's ideal for impromptu presentations, Skype, or even catching a quick video with friends.
Another mode I ended up using quite a bit was Pad Mode where the screen flips folds down on top of the keyboard facing outwards to emulate a vastly oversized XXL tablet. For gaming, doodling or even playing bullshit bingo during tedious meetings it worked a treat.
Then there is what I called non squint mode: This is where I could pull the screen towards me to make small text readable. In short, the R7's contortionistic tendencies made for a pretty versatile computing experience even if it reminds me that I may be well overdue for a visit to the optometrist.
Screen, Keyboard and Track-pad
So If that's the Hinge, what about the R7's display? It's a 15.6" 1080p LCD touch screen that'll detect up to 10 inputs for a full-on multi-touch experience. In use I found it to be pretty accurate on the touchy feely front, while it was vivid from most viewing angles I tried (which makes sense given how many different angles are possible with its funky hinge setup). About the only warning I'd give is this:
be careful when pulling the R7's screen closer - it's so blindingly bright, that you may find colleagues asking if you've visited a tanning studio the following day.
The R7's Keyboard is a generously sized affair with scrabble tile style keys. These had a surprising amount of travel and I found that I could touch type at reasonable pace with few to no typos. I'm not a big fan of scrabble tile keys but found the R7's pretty usable nonetheless.
What is different however is the R7's track-pad. When first Casting my eyes on it out of the box, I wondered if there'd been a screw up at the factory as the track-pad was behind the keyboard instead of in front of it.
It is odd and is definitely unusual, but in combination with the R7's touch-screen the about faced track-pad proved a surprisingly good combination. In use I found the touch screen fine for most things and when needed, I could in one smooth motion, use the track pad for finer control. Who'd have thought?
Having reviewed my fair share of convertibles, it isn't terribly surprising to note that most are aiming to occupy a niche the Ultrabook space whilst also incorporating tablet functionality. Not so with the R7. It is a gi-normous, beast that more resembles an aircraft carrier rather than anything Ultrabook-like.
Given the sheer number of Ultrabook convertables already out there, this isn't necessarily a bad thing.
Under the Hood
The OS behind the entire show is Windows 8. There's also a bunch of preloaded apps, some (such as the music making utility and RSS reader) were useful and fun. These can also easily be removed.
Powering things is an Intel 1.8GHz Core i5 CPU, along with a generous 6GB dollop of RAM, and as with the Acer S3 a hybrid hard drive, except that the R7's is packing a 20GB of solid-state storage (which makes for crazily fast boot times) and an old-school mechanical 500GB hard drive. The R7 may look like a power users gaming laptop, but only basic gaming is a possible thanks to the use of Intel integrated graphics.
Given the size, spec and weight of the R7, I assumed there was a fairly chunky battery under its hood. Unfortunately a run-down testing saw its battery lasting just over 4 and a half hours. Which in this day and age is pretty average.
Connectivity
That said, there's no connectivity shortages with the R7. Along one side is a power button, an SD card slot, a volume rocker, and a solitary USB 2.0 port. Across its other side, the R7 also sports two USB 3.0 ports, a DisplayPort and headphone/Mic jacks.
Verdict
It seems that nowadays a growing number of PC makers are desperately trying to come up with their own take of the Macbook air, The R7 is a refreshing change. Gone is the super model anorexic form factor, the R7 is no size 8 and it appears proud of the fact that it is both big and beautiful. Its hinge mounted display is insanely versatile and its screen really is a thing of beauty. Boot times were a zippy 8 seconds or less. About the only real shortcoming was what could best be described as an average battery life. That said it is a well-constructed piece of hardware and would make for a great desktop replacement, especially if it had more gaming chops and an optical drive.
Tech Specs
RRP: $1999 (Core i5), $2499 (Core i7)
Display: 1920 x 1080 pixel resolution 15.6" (141 PPI)
Operating System: Windows 8 (64-bit)
Operating System: Windows 8 (64-bit)
RAM: 6GB DDR3 SDRAM
HDD: Hybrid 20GB Solid state/500GB Mechanical
Graphics: Intel HD Graphics 4000
Wi-Fi: 802.11a/b/g/n
Bluetooth: Bluetooth 4.0