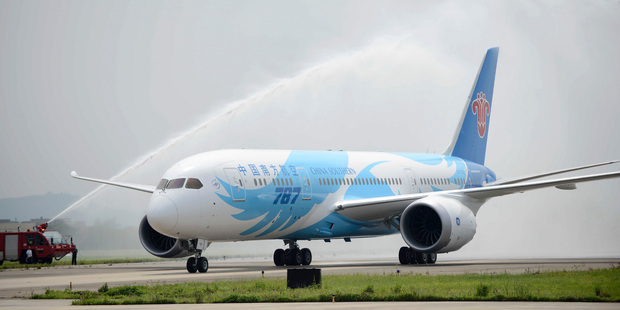 China Southern Airlines is set to be the first carrier to fly a Boeing 787 Dreamliner on scheduled services to New Zealand when it increases flights to Auckland over summer.
The airline will boost its Guangzhou to Auckland service from seven to ten flights each week from December 4 to February 28.
It will use a new Boeing 787 aircraft put on the route for the three additional flights.
The new flights will mean an extra 18,000 seats on the Guangzhou to Auckland route during the summer peak period and the use of the 787 will pip other airlines to use of the Dreamliner, if no other carrier puts theirs on scheduled services in the meantime.
Air New Zealand is due to have its next model Dreamliners delivered from the middle of next year and although Jetstar will get the first of its 787s later this year, they are likely to be used elsewhere.
China Southern Airlines general manager New Zealand Mike Ma said launching the first Boeing 787 long haul route is a significant milestone for China Southern Airlines and showed the commitment the airline had to the New Zealand market.
"China Southern has seen great increase in demand from the China market for our New Zealand services and the rapid capacity growth that the Guangzhou to Auckland route has experienced is an obvious reflection of this."
Glenn Wedlock, Auckland Airport general manager aeronautical commercial, said the airport and China Southern had been working closely together for the past year to achieve the extra flights.
"We have been very focused in recent years on growing connections between New Zealand and China to ensure we capture growth out of this booming market," said Wedlock.
The increase in services by China Southern will cover the 2014 Chinese New Year which is the busiest time for Chinese to travel.
The Chinese New Year in 2013 resulted in a record high volume of Chinese passengers and this new increase in services provides the capacity to reach a new record for 2014 Chinese, he said.
Overall there was a 30 per cent increase in arrivals from China for the year ending May 2013, which meant almost 50,000 extra Chinese visitors - nearly two and half times the increase in Australian visitors for the year.
"On top of this, the benefit in pure tourism spend from China is now almost $700 million which has grown by over $300 million since China Southern first commenced services to New Zealand in 2011. We anticipate that these latest extra flights will add at least a further $30 million in spend over the peak summer period this year."
China Southern Airlines general manager Australasia, Henry He, said that Australasia was one of China Southern Airlines' key focus markets.
"We are impressed with the success our service has seen so far in Australasia and these additional summer services reflect the high demand we have experienced and the confidence we have in these markets moving forward."
Like other airlines China Southern faced years delays to the delivery of the Dreamliner following design and manufacturing problems. The planes were grounded around the world for three months earlier this year after battery fires, before being cleared to resume service.