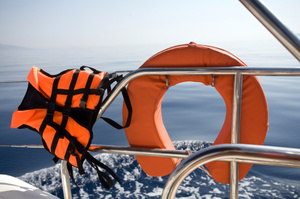 OLD FOLKS GONE: Roke Manor Research in the UK have a new tracking tag that could help keep tabs on old folk with dementia, lifejackets or even livestock. The Agitate device is made from two plates, one of metal, the other of a charged material. Even the slightest movement between the two creates electrical energy that powers a radio pulse lasting just a few nanoseconds. The signal may be short but is very powerful and can be picked up at least 20 kilometres away. There are no batteries: all the power is derived from jolting the device. Ear tags work nicely for livestock, but what about the old folks?
SLIP SLIDING AWAY: A new coating from the University of Michigan is mostly air, but it can keep liquids such as coffee, soy sauce or vegetable oil from staining your clothes.
The superomniphobic coating is applied to surfaces by electrospinning — using an electric charge to create fine particles of solid from a liquid solution. The coating is a mixture of rubbery plastic particles and liquid-resisting nanoscale cubes. Between 95% and 99% of the coating is actually air pockets, so any liquid that comes in contact with it is barely touching a solid surface. That means droplets have no incentive to spread and roll off the surface. While a coating like this would be handy for regular shirts and trousers it could help protect soldiers and scientists from chemicals, and lead to advanced waterproof paints that dramatically reduce drag on ships. Just don't let the politicians near it.
HARD DRIVING: Driving along in your 2014 Mercedes-Benz S-Class and feel you might need a break? That's OK, the car can take over some of the driving for you. In the right conditions the car can steer itself through city traffic or drive on the open road without your input. It uses radar, infrared and optical sensors to track lane markings or the car ahead, and can also park itself, brake automatically to avoid hitting humans or other cars and sense when the driver is becoming fatigued. It's so tiring watching others work.
VIEW FROM THE TOP: Your cellphone may have a rotten signal down at the beach but try video calling from the top of Mt Everest and you'll be right. A British mountaineer recently made the first video call from the top of the mountain using a smartphone. The call was part of an effort to raise money for charity. The climber made the call using Inmarsat's Broadband Global Area Network service. So maybe it's just a matter of getting the phone high enough.
MESSAGE IN A BOTTLE: It's a bit of a pain remembering to take
medication: you have to take the right pills or potions at the right time for maximum effect. AdhereTech's new smart bottle is here to help, with its automated phone calls or text messages. The bottle has a 3G chip for communications and is programmed by the pharmacist who loads it with medications. The bottle senses when it was opened and how many pills were removed then sends its data to a server. The server compares the data to the patient's prescription and can send text alerts or phonecalls to caregivers. The data has an open API so can be used by the patient or medical staff. Is that your pill bottle calling?
Miraz Jordan, knowit.co.nz