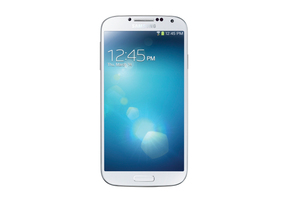 Samsung's latest super Android smartphone, the Galaxy S4 was expected to be the biggest and baddest on the market and in that respect, it delivers. It's fast and packed to the gunwales with features, all for a reasonable price too.
Essentially, the S4 looks like an S3 but it's smaller, lighter and better in every respect. There's a very quick 1.9GHz processor with four cores - New Zealand doesn't get the mad model S4 that has a four plus four core processor - 2GB RAM and fast broadband courtesy of LTE 4G.
A quick AnTuTu benchmark run showed the S4 to be really fast, scoring 24,485 which is around twenty per cent faster than competing devices such as the Sony Xperia Z which the Herald reviewed in March this year.
Only the 16GB internal storage model will be available here, and not the 32 and 64GB ones. That's not as bad as it seems as you can easily expand the storage capacity by removing the rear cover and slotting in a Micro SD memory card.
Removing the flimsy-feeling plastic cover also provides access to the SIM card slot and the 2,600mAh battery, which is user replaceable unlike sealed phones.
The Galaxy S4 feels good to hold, but not quite as luxurious as competitor devices with glass and metal cases.
As you hold the S4 and look at the five inch Super AMOLED type screen that's full high-definition or 1920 by 1080 pixel resolution - same as a much larger HD TV set - there's only one word for the display: impressive. It has 441 pixels per inch density and even supports the Adobe RGB colour space if you're a photography geek.
Colours are rich vibrant, the contrast is great and the display is legible outdoors too. In comparison, for instance Nokia's 920 display is a bit brighter, but not by much. The S4 screen is one of the best out there, for now at least. Photos and videos look great on S4 display.
With so much glass and not a great deal of plastic or metal to protect it, how drop proof is the S4? The experience of two Galaxy S3-owning acquaintances whose phones have broken screens after drops suggest that care should be taken with the devices, along with a protective case for them.
United States company SquareTrade that sells insurance and protection plans for smartphones went further and tested just how robust the S4 is, along with the S3 and Apple iPhone 5:
There is a rugged variant of the S4 coming up, apparently, so if you're prone to dropping your phone, wait for that one.
Rounding off the hardware list is a 13-megapixel camera at the back, and a 2-megapixel one at the front. You can operate both at the same time, and merge the pictures - this sounds a bit peculiar until you try it, but the results are fun.
Also fun and useful are the many filters and effects Samsung provides for still and video photography; there are features such as panorama and multiple shots, high dynamic range to lift detail out of shadows, face recognition and more.
The video camera has stabilisation for clearer clips and sound is recorded in stereo with 48KHz sampling rate at 128kbps. As a related audio aside, the S4 comes with the APT-X Bluetooth codec that provides very good sound for wireless speakers and earphones.
Overall, the rear camera provides nice results in good light, for both still and video. The high-resolution sensor shows lots of detail and the images are sharp, have good contrast and colours.
In low light conditions, the small sensor with high pixel count don't work so well together, and images are a bit noisy. Not the worst there are, but the quality difference between night and day shots is substantial.
Despite the powerful processor and large screen it lasted a long time, almost two days between charges with moderate use, and a day if the camera and video player were used extensively.
Beyond touchSome people have said the S4 is just the older phone with bumped up specs and no innovation, but that's being a bit unfair to Samsung. Sure, the S4 doesn't use any new, revolutionary flexible material or contains a perpetually charged battery or similar, but it does have nine sensors, some of which are pretty unique.
For instance, to track hand and finger movements, as well as how close the phone is to your face, the S4 uses infrared rays and measures how they're reflected for the Air Gesture and View feature that lets you drive some apps without touching the phone.
The display has its own sensor to help it adapt to different lighting conditions by measuring the intensity of red, green and blue light.
It doesn't stop there though. Samsung squeezed in the usual gyroscope to detect if the phone is held in portrait or landscape mode, and an accelerometer that is used for the S Health fitness app that counts steps.
A geomagnetic sensor drives the digital compass for maps, and the S4 also has a thermometer, humidity sensor and barometer - the latter two are used with the S Health fitness application too.
Finally, there's a sensor at the back of the phone that detects if the cover is open or closed. This is used in conjunction with Samsung's smart S View Cover that's sold separately.
On top of the above, the front-facing camera in the S4 is used to track your eye and face movements, so you can scroll up and down a page by just looking at it.
That's a crazy amount of sensing technology in a small device, and it's amazing most of it works as well as it does. With the S4, you realise that the technology in Minority Report probably isn't that far off.
The sensors and the relatively few Samsung apps that support them mean the physical sensing technology should be considered as work in progress; the eye and face tracking worked well, but the sensors were prone to misinterpret hand and finger gestures during the review period.
This accuracy of the latter may improve with more use than was possible over the much too short review period, and with software updates.
That said, there's no doubt that Samsung - and other companies - are heading down the right track by adding physical and environmental sensors. The technology is still young, but expect it to show up this year in games, fitness and location apps and even productivity ones.
KNOX missing
A future software update is meant to bring a feature business users will want on the S4, namely KNOX. This partitions the phone into a business bit and a personal part, so you don't mix the two in a similar fashion to what Blackberry does with the new Z10 phone.
How well KNOX will work is too soon to say, as Samsung is still testing it. The US Department of Defence has already certified KNOX however along with Blackberry products which are traditionally considered secure.
Speaking of software, the offering on the S4 is very comprehensive with everything under the sun included. There's even a remote control for TVs that work with other sets than just Samsung ones.
Samsung is in fact doubling up on the software side, with its own app store that comes on the S4 along with Google. That certainly provides more choice, but also a degree of confusion as you now have two app stores to deal with.
One key piece of software included with the phone is the TouchWiz interface customisation that Samsung applies on top of the latest Android 4.2.2 operating system from Google.
How much you'll like TouchWiz is a matter of personal taste but in the latest incarnation, it is very polished and provides a handy side bar task switcher among other features and doesn't get in your way.
Tough competition
There's no doubt that the Samsung Galaxy S4 is an excellent device for those in the Android camp with a nicely balanced set of features. Plus, the sensors provide for a unique user experience too.
At $1,149 RRP (it can be had cheaper if you don't buy it from a telco), the phone costs about the same as competing high-end devices from Sony, HTC and Apple, all of which have strengths that the S4 doesn't, but which miss features the Samsung phone has.
Picking a clear winner when there are so many feature-rich and excellent high-end handsets around is difficult, but either way, the Galaxy S4 should be on your list of devices to check out.
Rating: 4/5 - Would be 4.5/5 with KNOX
RRP: $1,149 including GST
Contact: samsung.co.nz