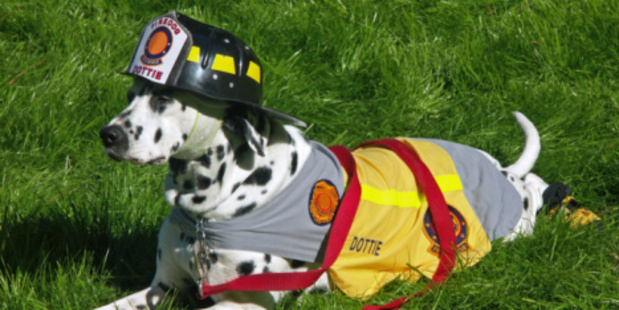 DELIVERY DOG: Search and rescue is a hazardous job, especially in collapsed buildings. In fact there may be some places where only a robot shaped like a snake could reach. How to get the robot into place may still be a problem though, so why not send in the dogs?
Researchers attached a snake robot via a harness to a trained recue dog and sent the dog into a collapsed training building. The dogs are trained to bark when they find a point of interest. At that time the researchers trigger the harness to fall off the dog and release the robot. The robot is then able to writhe and slither around, relaying video back to the rescue team. Now they need a robot dog to deliver the snake robot.
SEND A ROBOT: All those huge wind turbines generating electricity are doing a great job, but they have to be inspected regularly and that's quite a challenge. Of course it's the ideal job for a climbing robot like the HR-MP20 that can run up the wind turbine and crawl out onto the blades.
The little 4-wheeler works wirelessly, hanging on with magnets and can carry cameras, sensors and various inspection devices.
The robot weighs 9 Kg and can climb at up to 13 metres per minute. Its radio control range is around 760 metres in line of sight. That's
quite an inspection gadget.
TOUCHING ROBOTS: Our skin is an amazing sensor, detecting even the lightest of touches. Matching that with an artificial skin that can detect touch, for robots, for example, is a big problem. Now researchers at Georgia Tech may be onto something. They built tiny arrays of around 8,000 transistors bundled together with nanoscale crystals of zinc oxide, a semiconducting material. These taxels produce electronic signals when subjected to a mechanical force such as a touch.
They're about as sensitive as a human fingertip too — much more sensitive than previous approaches to the problem. Taxels: nice name.
THE SPOKEN WEB: There are plenty of people who have no access to the Internet: even if they had a computer they still can't read and write.
The Voices project in Africa lets users of specially created web content control it by speaking, listening to the page and by pressing certain buttons on their phone. The system can also push voice messages out to individual handsets, allowing for the creation of a voice version of Twitter called Tabale. One problem is that many languages, such as Bambara spoken in Mali, haven't been studied sufficiently for good voice recognition. Technology can bring huge benefits, but there's still so much research yet to be done.
THE QUIET TUK: In some parts of the world the 3-wheeled tuk-tuk serves as a taxi. Now Terra Motors in Japan are introducing an electric version that can travel 50 Km on a 2 hour charge while carrying several passengers. The Philippines plan to replace 100,000 of their petrol-powered tuk-tuks with electric vehicles by 2016. The electric vehicles are quieter and will help reduce air pollution. They look quite swoopy too.
Miraz Jordan, knowit.co.nz