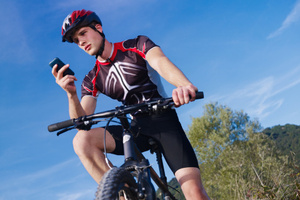 PEDAL CHARGER: Gadgets you use while cycling, such as for GPS, can quickly run out of juice, so wouldn't it be handy if all your pedalling could help charge them up? The Atom does just that, charging an iPhone 1% for every two minutes of pedaling. It easily attaches to the axle on the rear wheel and charges devices via a USB cable or by powering its own battery that can later be used as an external battery for your phone. Because it's siphoning off some of the energy from pedalling it adds a slight drag to the bike — about the same as a 0.3% gradient, and uses internal gearing to maximise efficiency. That beats draining your phone just to track a ride.
GET THE SUNSHINE IN: IBM are working on a High Concentration Photovoltaic Thermal system that can make the most of the solar energy it concentrates.
Usually solar collectors are limited in how much sunshine they gather as otherwise they'd simply get too hot. This highly efficient and low cost collector will be cooled by water that will remove some of the heat and could itself be used for air conditioning. The system uses a large parabolic dish made from many mirror facets and photovoltaic chips, while a tracking system determines the best angle based on the position of the sun. It converts 30% of collected solar radiation into electrical energy. The cooling system is inspired by the hierarchical branched blood supply system of the human body.
PATCH GAMES: One child in 50 is likely to have a problem with amblyopia where one eye is weaker than the other. The traditional treatment is to have the child wear an eye patch for months.
Researchers at McGill University think a better option may be to have the kids play Tetris — it worked in a small study with 18 adults. They had volunteers wear special goggles for an hour a day while playing Tetris. The goggles allowed one eye to see only falling blocks, while the other eye could see only the resting blocks. After two weeks their vision had improved more than that of a control group. I'll bet most kids would prefer the video games to the eye patch.
FLYING THUMBS: It can be hard work typing on a tablet's touchscreen keyboard. After studying millions of English-language tweets that originated from mobile devices a team of researchers has designed a new KALQ keyboard layout optimised for typing with thumbs. After several hours of training novice users were able to reach 37 words per minute on the new layout — the fastest thumb typing speed ever reported. The layout puts most vowels by the spacebar, on the righthand side, and the most commonly used letters are clustered. Left handers can swap orientation, and key size can be changed to match thumb size. Several hours of training for typing on a touchscreen? That's dedication.
BIG HEAD: Bike helmets are fine when they're on your head, but a pain to carry round when they're not. Carrera's foldable bicycle helmet has a flexible frame, elastic fitting system and adjustable side straps that adapt the helmet to the shape of the head. An included belt wraps around the folded helmet so it attaches easily to the bike frame when not wearing it. Now, if they could just find a way to also make it fold flat.
Miraz Jordan, knowit.co.nz