Did you get your hands on a Galaxy S4 or did you miss out? Email news@hos.co.nz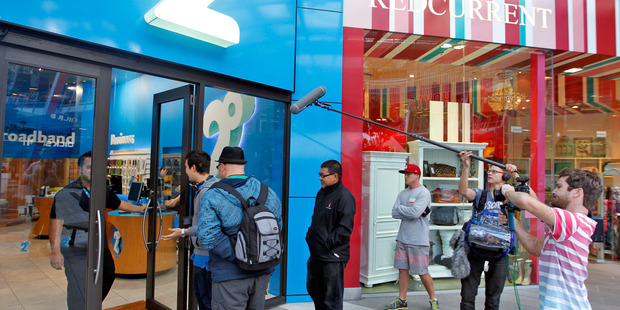 The latest Samsung smartphone went on sale in New Zealand today with rival telcos instantly matching call plans and giving the Galaxy S4 free to customers.
Before doors opened at 9am Two degrees and Telecom were marketing the phone free with $119 monthly plan on a special limited launch offer.
The phone retails at $1149.
Albany student Alan Buckner was among the first in the country to lay his hands on the new technology.
The electrical engineering student travelled to Auckland's Sylvia Park to line up an hour before the phone went on sale.
He said it was a birthday present from his parents.
"I should be at university studying,''said Buckner as he clutched his gift.
"I'm pretty excited, of course.''
Auckland man Mauritz Mulligan was also among the first to collect the phone.
His old Sony Ericsson could only be used for sending messages after it was accidentally dropped in water.
The maintenance engineer said he planned to charge up his new smartphone and "figure the damn thing out.''
"I feel energetic. I can play with my knew toy now.''
Samsung spokesperson Mike Cornwell said there had a strong pre-launch demand for the phone.
He said the latest phone raised the bar in smartphone technology including sporting the largest smartphone high definition screen on the market.
But his personal favourite development was the phone's smart pause feature.
A sensor inside the phone monitored your eyes and could automatically pause the screen if you looked away.
The phone also featured a touchless scroll feature that required a simple tilting motion to look through lists.
New Zealand continues to be one of the world's leading users of smartphone technology.A March Horizon Research poll of 2,161 people aged over 18 years showed around 1.67 million adults have a smartphone. That number has skyrocketed by nearly half a million users in a little over six months.