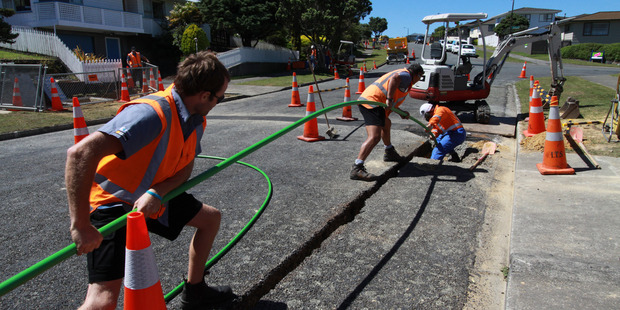 The Commerce Commission will push on with its review of what Chorus charges internet retailers for some wholesale services, despite Government intervention.
In a draft decision last December, the commission proposed cutting what Chorus charges for unbundled bitstream access (UBA) by 27 per cent. This service enables internet retailers to supply broadband services to households and businesses without the need to replicate Chorus' local copper lines or have their own equipment in telephone exchanges.
If the commission's UBA decision was finalised, Chorus has said it could reduce its annual earnings before interest, tax, depreciation and amortisation (ebitda) by $150 million to $160 million from December 2014, when the price change would come into effect.
The Commission was due to finalise its UBA price decision in June but in February Communications and Information Technology Minister Amy Adams announced she had fast-tracked two telecommunications regulatory reviews.
This meant the implementation of the commission's UBA price-setting would be pushed out "a date no later than November 2015", the minister said.
Despite this announcement, the commission today said it would finalise UBA pricing in August this year.
In a statement, the commission said it had fully "reconsidered its timetable in light of the Government's announcement" and had consulted with industry on its implications.
"Despite the proposed deferral of these 2014 deadlines, we have concluded that the grounds for delay are insufficient to outweigh the 'reasonable efforts' imperative in the Act," said Telecommunications Commissioner Stephen Gale.
In its statement this morning, the commission said amendments to legislation in 2011 introduced a cost-based price for UBA from December 2014.
Under this, the Commission is required to make 'reasonable efforts' to complete the UBA price determination - using international benchmarks - by December 2012, and to allow sufficient time to derive the UBA price from a cost model by December 2014 if requested by industry, its statement said.
However, Gale said that if a cost model is required for the UBA pricing, this process could extend into 2015 which would be more compatible with any changes arising out of the Government's review of the Telecommunications Act.
InternetNZ said it welcomed the Commerce Commission decision to keep on with its review.
"The price that the Commission determines at the end of this process will be an important benchmark for the Government's forthcoming review of the policy framework for telecommunications regulation," says internetNZ spokesperson Susan Chalmers.
The law leaves the Commission with a clear duty to complete the pricing review, she said.
"The industry and the markets need to know what the final price would be under the law. Completing this price review will improve consumer and investor certainty."
"Whatever plans for legislation the Government settles on, we hope they will welcome the Commission's work as a credible and useful input for the important policy review that kicked off in February," says Chalmers.
Overall, along with most of the telecommunications industry, internetNZ supports the Commission in this decision.