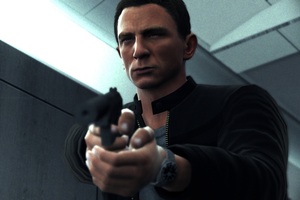 I just flat out don't understand this game. I don't understand any thinking that went into it, and I don't understand the choices for gameplay; in fact, the only thing I understand is why it was made: as a tie in to Skyfall and 50 years of James Bond.
I never start game reviews by telling you what's on the cover art, but in this case I couldn't go past it. Normally the box is where the game companies can lie to us; they show us an intriguing piece of art and images of the game being played on a supercomputer. On the box of 007 Legends there are stills from classic Bond films (as long as your definition of classic includes Die Another Day) and the in-game model of Daniel Craig which more closely resembles Ricky Schroeder battling alcohol abuse.
The game starts with the bit from the new movie (don't, worry it's not a spoiler, it's in the trailer) where Bond is shot and falls from the train into a river. From there watery visions lead us to each level - starting with Goldfinger.
Waking up in a Miami hotel room with a dead girl painted in gold will be familiar to all James Bond fans, as will the Sony cellphone he uses to contact M about the killing. You may also remember Daniel Craig played Bond in the film... that's right! All of the levels are old Bond movies "reimagined" with Daniel Craig's Bond and set in the modern day. So naturally Goldfinger's factory in Switzerland is making VTOL jets, and when he assaults Fort Knox he uses a laser tank. Or to put it another way: NONE OF THIS MAKES SENSE!
But if anything is going to distract you from the mangling of classic Bond movies it will be the awful gameplay.
Bond, right from the opening scene, is assailed by waves of hapless henchmen. Their deaths give Bond new weapons and ammo pick-ups and soon you'll be running and gunning along like you're playing any generic first-person shooter. Which is fine, I suppose. It's pretty easy to choose between the three guns you're allowed to carry, but when you pick up a new weapon it's never clear which of your current weapons will be replaced.
Overall, there are five classes of gun that Bond uses and these can be modified with various purchases (based on XP). But you can only modify the guns at certain points in the game and then if you run out of ammo and discard that gun for another you have to wait for another station to get the mods back. You can also hurl grenades, though not with any accuracy.
But it's not all just "shoot the cannon-fodder", there's also stealth. Now if you're a James Bond fan you'll know stealth for Bond usually means sneaking into a facility dressed in a suit before stepping out of the shadows for witty/sexy banter with the boss/sexy assistant.
In 007 Legends, stealth means crouching behind stuff. Bond's watch offers a radar for spotting where the bad guys are, but not the direction they are looking; moreover, there is no simple way of discovering if they can see you until, annoyingly, they see you. You also can't hide bodies and guards will sound the alarm if they see bodies.
In one level I had sneaked my way past a dozen guards when one suddenly saw a body, alarms went off, and I was gunned down and returned to the start of the level. Things like this in a game make you feel like you're wasting your life.
Bond can also use his Sony Ericsson-branded smartphone to do things. He can scan for fingerprints, or follow chemical trails with the biometric filter, or hack "wifi" points and gain intel with the electro-magnetic filter. Your handy-dandy watch is used to crack safes. Mostly these are for mission objectives, but often it's just to find extras that unlock intel about your adversaries in the main menu. I don't want intel or character models, I want exclusive behind the scenes footage from the movies.
The main villains get a boss battle at the end of each mission. This will consist of you punching them in the most basic way, by flicking the left and right thumbsticks depending on what the on-screen prompt says. There are also some side missions in cars or on skis: be prepared to repeat these over and over as the controls are goofy and hard to handle.
Somehow this game is currently retailing for around $100; I would recommend paying $20 more to get something like Black Ops 2 or paying the same amount and getting Halo 4.
The whole time I was playing 007 Legends I kept thinking "why didn't they...?" This is not the sign of a good game nor a fitting tribute to fifty years of an iconic movie hero.
Platforms: Xbox 360, PlayStation 3
Classification: M
Rating: 2/5