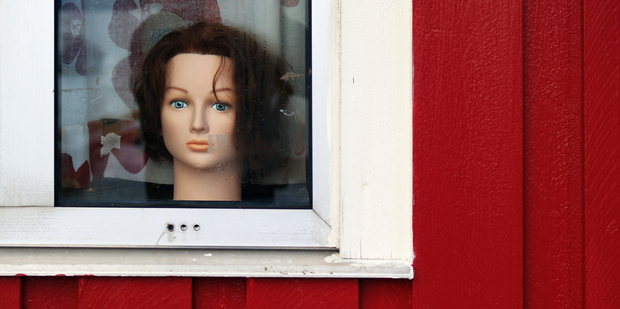 NO DUMMIES: As you go shopping keep an eye on the mannequins — they may be watching you. EyeSee mannequins have a camera embedded in one eye that feeds data into facial-recognition software. It logs age, race and gender. Retailers can use the data to reveal detailed shopping trends and adjust their displays and promotions. Now who are the dummies? Bloomberg finds.
PLASTIC ROADS: Vancouver is doing something useful with its recycled plastic: they're mixing it with asphalt to create a paving mixture for the city's streets. The mix allows asphalt to be laid at a lower temperature, which means the process uses less fuel. The plastic also reduces vapours released into the air when the paving's laid. That's a win all round, using up plastic and reducing the negatives of roading. Inhabitat details.
UNCUFFED: When the doctor tests your blood pressure it involves a cuff on your arm and a stethoscope. Nihon University has a blood pressure meter that you simply touch with a fingertip to get a reading. LEDs send out light that's reflected from the finger. Photo transistors register that reflected light and provide a reading. The monitor could make it much easier to measure blood pressure in babies and elderly people. It could also be a handy household device for anyone worried about their blood pressure. Tech-On elaborates.
THE KIOSK TOUCH: New York has long had pay phones, but now they're adding 250 touch screen kiosks to go alongside some of the phones. The kiosks provide city information, along with coupons from local retailers. In an emergency they can provide safety messages and users can also call for help. The kiosks have been over-engineered to withstand potentially harsh environments and hard use. Handy for replacing phone books too. GigaOm explains.
BUILDING SMARTS: Building toy houses with toy bricks is a bit old-hat now. But how about if you could rig them to explode when a camera flashes? Atoms are electronic bricks that easily plug together to make toys that do things. Atoms don't need any electronics skills — kids can just take them out of the box, add them into their Lego sets or hook them on to stuffed animals, Barbies or action figures. The modular blocks can also be controlled with an iPhone. Three kinds of bricks are available: sensing, logic and output. And one brick explodes on command. That exploding brick's sure to be popular. Atoms Express has more.
Miraz Jordan, knowit.co.nz