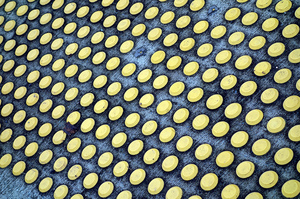 Portability or good image quality - you could have one or the other with cameras, but not both. Not until Sony's new Cyber-Shot DSC-RX100 that is. This compact camera is small enough to be with you at all times and is able to produce some very good still images and moving pictures even in low light.
Several components in the RX100 work together to provide the excellent results, including a one-inch sensor that's roughly four times the size of what you'll normally find in compact cameras.
The sensor is the digital equivalent to film, and as a general rule of thumb, the bigger it is, the better the image quality. Also, a bigger sensor means better pictures in low light as you can turn up the sensitivity without picking up noise that creates blotchy and smeared images.
Sony's new sensor provides a high 20 megapixel resolution. At first, I thought the high pixel count would compromise the image quality, as the sensor, while large compared to compact cameras is still considerably smaller than the ones found in digital single lens reflex (DSLR) snappers.
Digital camera geeks will know that packing too many pixels on a small sensor surface can lead to image quality issues; in the case of the RX100, this is not a worry.
Instead, having the big 20Mpixel images gives you plenty of opportunity to crop and pick out details as at 100 per cent magnification, the pictures are really sharp and noise free. For a small camera like the RX100, this is very impressive performance.
Adding to the image quality is powerful electronics inside the camera that processes pictures sensibly - to appeal to pro photographers the camera can take images in uncompressed RAW format, which is essentially just the data from the sensor, leaving you to do the post processing.
RAW files from the RX 100 are big at 20Mbytes or so each however. Working with RAW files I noted that Adobe Photoshop CS6 isn't yet able to read them directly. You can use Sony's supplied Image Data Converter program which isn't great but provides basic treatment features such as sharpening, noise reduction and colour/exposure adjustment, and which also can export RAW files as TIFFs to Photoshop.
However, I was happy with the smaller, compressed JPEG photos straight out of the camera so you don't need to use RAW files unless you really like to tweak images. Turning on the RAW file option also disables some useful features such as multi-frame noise reduction: this takes several pictures and combines them into one, for noise-free images, a feature that works very well in low light.
Zooming along with a Zeiss lens
A high-resolution sensor needs a very good lens to do it justice, and Sony put a Carl Zeiss Vario-Sonnar T* zoom on the RX100. The lens-legend name alone will arouse frissons of delight amongst serious photographers, but it gets better: while the zoom range is useful rather than spectacular at 28 to 100mm or moderate wide angle to short tele, it's very fast at f/1.8. Well, at the widest angle that is.
Combined with the largish sensor, the f/1.8 lens means you get good control over the depth of field with the RX100. In other words, images with nicely blurred backgrounds where the foreground object "pops out" are entirely possible to capture with the RX100.
Like most compact zooms, the one on the RX100 is a bit soft at full tele, and the maximum aperture shrinks to f/4.9 too. The softness isn't pronounced however, and otherwise, distortion and colour fringing are both well controlled with the lens and the electronics in the RX100.
Also, the RX100 features Sony's Steady-Shot image stabilisation that lets you use longer than usual shutter times, without getting blurry images.
Small but fully-featured
The nicely built RX100 is indeed quite small for large hands, with no protruding grip at the front. I bolted on the included leather case which apart from giving the RX100 a nice retro look also provided a little bit more to hold on to.
Otherwise, the controls are placed on the right hand side, with a thumbwheel for setting the shooting modes and a rocker switch for the zoom on top, and a small, recessed power button.
Buttons for video recording, system menu, playback and the helpful online manual are found at the back, as well as one for quick selection of exposure parameters.
There's also a clickable thumbwheel at the back with a centre selection button, but it doesn't end there: the RX100 has a very useful large control ring around the base of the lens. This can be set to perform a range of functions, including zooming, selecting programme auto combinations, aperture/shutter settings, focusing and more, depending on which shooting mode you're in, or how you have customised it.
Now's a good time to mention that the RX100 comes with a vast range of features, such as multiple shooting modes, creative and image treatment styles and more; it will take a while before you'll learn to navigate the menu system in the camera, to get to them all. I found myself referring to the online manual a number of times, having become lost in the menu maze.
Sony could work on making it easier, and maybe too omit some of the gimmicky features such as watercolour and illustration creative styles in favour of a simpler interface.
Having two full-auto shooting modes on an enthusiast camera like RX100 seems overkill too, even though both work very well.
The pop-up flash on the RX100 is small, but surprisingly useful as it can be bent back with your finger for bouncing the light. It doesn't reach all that far though.
Also note that with the RX100, what's in your hand is what you get. There's no expansion shoe for flashes or viewfinders, or microphone jacks. There's a USB 2.0 port for transferring pictures and an HDMI connector for video and still playback on HDTVs and apart from the tripod mount, that's it.
One thing I missed, and this is nitpicking, was some form of wireless connection for file transfers and remote control of the camera. I understand that Sony has already squeezed an impressive amount of features into the RX100, but wireless would make it almost perfect.
Speedy shooter
First thing you notice with the RX100 is that it's quick: it wakes up fast when you press the somewhat fiddly power button and the autofocus locks on very quickly too and rarely hesitates even in low light.
Composing pictures is easy thanks to the 3-inch LCD at the back, which is high-resolution (1,228,800 dots) sharp and visible even in bright sunlight.
The speediness of the RX100 means you can take pictures rapidly, up to ten frames per second in fact if you set the camera to the Speed Priority mode. Again, very impressive, and up there with some DSLRs.
I would imagine most people buy the RX100 for its excellent still image quality but it's worth noting that the video at 1080/50p HD resolution is pretty good too. The main problem here is that the two stereo microphones sit at the top of the camera, and you can't plug in remote or wireless ones for better sound in noisy locations.
Premium product at premium pricing
The RX100 is very well conceived; it delivers on what it promises and I can guarantee you'll love the image quality and speed of the camera.
Its biggest fault if you can call it that is the price: at $1,099.95 RRP, the RX100 is up against some DSLRs and Sony's own excellent NEX cameras, not to mention Panasonic and Olympus Micro Four Third snappers with interchangeable lenses, most of which have very good image quality too.
However, the RX100 does just about everything its competition can, while fitting in your pocket. If you want a truly portable digital camera that doesn't compromise on image quality, there's nothing like the Sony Cyber-Shot DSC-RX100 currently.
Rating: 5/5
Sony RX100 movie test