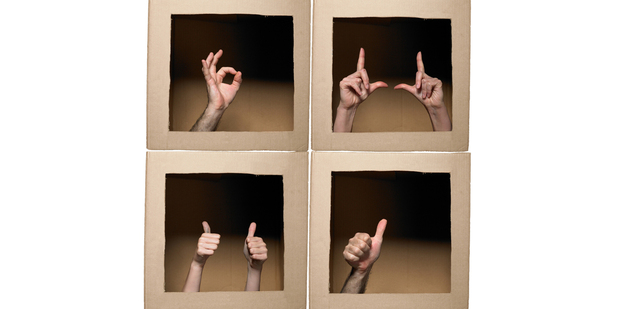 POINT AND CLICK: Gesture control is the in thing. Leap Motion's new 3D motion control system can distinguish your individual fingers and track your movements down to a 1/100th of a millimeter. The Leap device plugs into a USB port, while software on your computer does the gesture recognition. Unlike systems that detect larger motions, such as those of an arm, this system can detect a fingertip or pen. That's a new line in gestures. Leap Motion details. Check out the video here.
CUTTING EDGE XBOX: When surgeons are operating it's not easy for them to check the medical images they need to consult — unless they're using an Xbox and Kinect, that is. A surgeon at Guy's and St Thomas' hospital in London has started a trial that uses an Xbox Kinect camera to sense the surgeon's body position. By waving a hand and using some voice commands the surgeon can directly view, zoom and rotate medical images such as such as CT scans or real-time X-rays, rather than relying on an assistant to manipulate the images.
One challenge was to come up with gestures that could be used in a constrained space and with other people around. They need to get that thought control thing going. New Scientist has more.
SPACE FORCE: A young university student at Egypt's Sohag University says she's invented a new way to propel spacecraft. She's patented a device that uses the Casimir-polder force, which occurs between separate surfaces and objects in a vacuum to generate electricity. Does Egypt have its own space programme, or will it just go to the highest bidder? HumanIPO explains.
VOICE CONTROL: The Olympic Games mean crowds of people. And crowds of people means finding ways to control them. To that end authorities have a Long Range Acoustic Device that can be used as a loud hailer to make officials clearly heard at a distance. The 1000Xi LRAD can broadcast messages over distances up to 3,000 metres. The device can also emit a beam of pain-inducing tones for crowd control. One way or the other you will do as they say. Have fun at the Olympics. BBC shares more.
NEAR ENOUGH: Rice University researchers and a team of others created a computer chip that's about 15 times more efficient than current chips. It achieves efficiency by sacrificing a bit of accuracy. The researchers say that as an example, the human eye has a built-in mechanism for error correction. In the same way, their computer chips can process images whose errors could barely be discerned. Certain special purpose chips, such as those used in hearing aids, cameras or low-cost slates could be good candidates for replacement by the efficient but inexact chips. Well, if near enough is good enough ... Visit Rice University for further information.
Miraz Jordan, knowit.co.nz