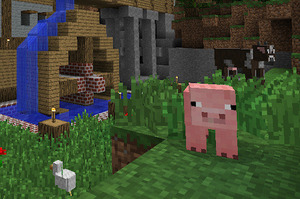 After a massively successful run on the PC, Notch's innovative indie game Minecraft has finally arrived on Xbox Live Arcade, and it's a surprisingly solid port - given the switch to controller.
Minecraft is a sandbox title in which you can literally build and manipulate the world to your heart's content - with no clichéd story to get in the way. Everything in Minecraft is about freedom. The freedom to switch up the difficulty whenever you want - although you will need to save and exit and switch when you reload it, or create a tree to look like a certain Pegasus from a popular cartoon. You could even plant a row of suspicious wee- well, you get the idea.
The basis of Minecraft's gameplay is mining the environment, crafting items and weapons, and building structures to protect yourself. The tutorial mode does a good job of guiding you through the basics, such as crafting and mining. Although it's a little redundant because every time you craft a new item, or discover a new element, the game provides a brief description.
Once the tutorial is out of the way, you start the game with a map - which for some reason is stuffed in your inventory. It's a good idea to equip the map and set out exploring, as it's a bit tedious to cover every inch of the world. Another fine example of tedium pops up when it comes to mining - it can get rather repetitive as you are digging one block at a time. Fortunately, tools created via the game's crafting system negate the tedium.
Minecraft has a tool for every aspect of mining: shovels for digging, pickaxes for breaking rock, and TNT for taking out large chunks of land. In addition, you can craft weapons - such as bows and swords - for hunting passive animals for food and their hides, as well as defending yourself against the hostile mobs.
Some items you craft, such as beds and torches, can be taken down and placed back in your inventory. The basic tools and weapons require a crafting table. It's easy to get a handle on crafting with your first crafting table, and you can create the tools to mine the things you need for the next, and so forth.
The worlds in Minecraft are populated by mobs. Depending on the difficulty level, you might get little more than passive and tamable creatures such as sheep, cows, and wolves. On higher difficulties, you will encounter hostile mobs at night including Creepers.
The hostiles will easily overwhelm you if you aren't prepared, so it's a good idea to start on peaceful difficulty or lower it before it gets dark - even if a creeper is attacking you if you exit the game and saved then reload the game on peaceful the creeper will vanish and your health will recover. Alternatively, you can keep the game on peaceful and just keep on building things - although you won't get any achievements related to killing mobs.
Inventory management has been optimised for the Xbox 360's controller remarkably well. To start with, the interface has been tweaked to allow mass movement - you can move all, or half, of an item from your inventory at the push of a button. Minecraft also provides three options for movement controls; the default is your standard FPS setup, which - while familiar - makes swimming a little awkward, as a face button has been assigned to swimming up while the right stick is assigned to looking.
Visually, Minecraft looks identical to the PC version - like it was released in 1995. Few of the visual effects that we take for granted in 2012 such as texture filtering and anti-aliasing are present. However, the lack of effects pays off in the game's expansive environment, as it runs at a consistent 60 frames a second. You can even make your way up to cloud level without experiencing the slightest frame rate dip.
Minecraft's graphics should be taken as more of a unique style, rather than dismissed as 'dated graphics'. Everything in the game is made of blocks - from the rain sprites to the mobs. The only drawback to the visuals is that there is a fair bit of pop up due to the long draw distance at ground level. However, if you collect tons of dirt blocks and build a tower up to cloud level you can get high enough to see the entire play field.
New to the Xbox Live Arcade version is a horizontal split-screen mode, allowing another player to earn achievements and mine your level. Online multiplayer allows players to visit your world and mine; you have the option to make the game invite only, or open to anyone. It's a good idea to be careful who you invite to your world because when a visitor leaves their avatar is saved to your world and any item they've collected is locked to that copy of their avatar's inventory. If, however, they place stuff they have collected or crafted from their inventory in a chest, it's there for any player to take out and use.
In terms of scale you have less room to play; it's just 1024 X 1024 compared to the PC version's 5000 x 5000. That said, the smaller scale combined with unique features is reflected in pricing at 1600 Microsoft Points; it's cheaper than the PC version. In addition, Minecraft Xbox 360 Edition is one of the more unique games on Xbox Live Arcade.